Learning about the tragic deaths in the bicycle community that have happened recently in the Pacific Northwest gives me goose bumps.  I know that when I decide to ride to work – nearly 12 miles each way on the shoulder of a highway where cars speed by at 50 miles per hour – I'm taking a risk.  Anyone takes a risk when commuting to work, no matter what mode of transportation they select.  However, my road bike doesn't feel as safe as riding high inside my Honda CR-V with the seat warmers on and NPR keeping me company.  If one thing goes awry during my bike commute, I'm likely to wind up in the hospital or worse.  When I began riding to work, most people were genuinely concerned for my safety.  I can't imagine letting my son ride on the roads I ride unless there are significant changes to our region's infrastructure.  And that's part of the reason I ride – to show support for cycling as a mode of transport despite its marginalization.  Yet, learning of the loss of life of the cyclists in this region gives me pause.
Safety is a big barrier to bicycle commuting in America.  Cyclists in the US face a far greater risk of death when choosing to ride than in more bike-friendly countries.  According to a recent piece in The Economist, you are three to five times more likely to die while bicycling in the United States than in bike-friendly countries like the Netherlands, Denmark, or Germany.  Safety is often cited as a major factor in why people do not ride in America.  So it's not surprising that Census data shows less than 1 percent of Americans commute by bike.
And I was not one of that fraction of a percent who ride to work until recently, even with my degrees in urban planning and my devotion to use my car as little as possible.  It wasn't until I moved to Copenhagen, Denmark that I realized the potential of bicycles as a mode of transportation.  In Copenhagen, you can't really ignore cycling.  It's a respected way to get around – about 50% of all Copenhagen residents who commute within the city's boundaries get to work on bicycle.
What is there to learn from cities like Copenhagen and Amsterdam that might help address the enormous gap in safety between riding in the US and bike-friendly countries in Europe?  One major difference is that bike-friendly cities in Europe have set out to create a network of bike lanes that is mostly separated from vehicular traffic.  In Collection of Cycle Concepts put out by Denmark's Road Directorate, a manual for traffic engineers and planners, they state simply:  "The road administration has a choice: either car speeds must be adapted to the conditions, or conditions must be adapted to car speeds.  On cycle routes where cyclists and cars use the same traffic area, a desired speed for cars of up to 40 kph is suitable….If car speeds are higher than 40 kph, traffic calming or separation of the types of traffic is advisable" (page 50).  Forty kilometers per hour is equivalent to about 25 miles per hour.  Michael Wang, the Seattle cyclist who was killed on Dexter Avenue (a heavily used cycle route) was on a bike lane separated from vehicles traveling 30 miles per hour by a painted line.
Alan Durning wrote about the connection between car speeds and pedestrian deaths in a recent post. A UK study from the mid-1990s reviewed vehicular speeds and the chance of pedestrian death.  When cars are traveling at speeds of 20 miles per hour, the likelihood of pedestrian death is 5 percent.  Add ten more mph, and pedestrians have a 45 percent chance of death.  At 40 mph, there is an 85 percent chance of death.  And I'm riding on a road posted at 50 mph with no separation between cars and me except for a fog line.  Yikes.
I think it's obvious that in the US, cycling is a riskier endeavor than in bike-friendly cities and countries in Europe.  But there is also another component that keeps people off the roads:  the sense of safety or security.  This is obviously linked to safety statistics, but it is also more subjective.  The City of Portland did an interesting survey a few years ago that asked why people chose not to ride.  As with most surveys that asked this question, the choice to ride or not to ride hinged on concerns about safety.  Based on the survey results, four categories of riders were created, as shown in the below graphic.
The study concluded that Portland's impressive increase in bicycle commuting numbers resulted from encouraging more "Enthused and Confident" riders to get on bikes by adding bicycle facilities to more city streets.  This group will ride on the road occasionally, but prefers bike facilities like lanes and bike boulevards.  However, there is gigantic potential if the city can convince those "Interested but Concerned" riders to get on two wheels.  This group would consider riding, but not if it requires mixing with cars on busy city streets.
I think the "Interested but Concerned" mentality can be summed up best by pointing to Alan Durning's words:
What if cities had no sidewalks and everyone walked on the road? Or, for urban recreation, they walked on a few scenic trails? What if the occasional street had a three-foot-wide "walking lane" painted on the asphalt, between the moving cars and the parked ones?
Well, for starters, no one would walk much. A hardy few might brave the streets, but most would stop at "walk?! in traffic?!"
Fortunately, this car-head vision is fiction for most pedestrians, but it's not far from nonfiction for bicyclists. Regular bikers are those too brave or foolish to be dissuaded by the prospect of playing chicken with two-ton behemoths. Other, less-ardent cyclists stick to bike paths; they ride for exercise, not transportation. Bike lanes, in communities where they exist, are simply painted beside the horsepower lanes.
People react reasonably: "bike?! in traffic?!" And they don't. "It's not safe" is what the overwhelming majority say when asked why they bike so little.
Increasing the numbers of riders also appears to make cycling safer and encourage more people to give bike commuting a chance.  Research is showing that cities with high figures of bikes on the road also have, on average, lower rates of traffic fatalities – for all road users.  Researchers Norman W. Garrick and Wesley E. Marshall provide a compelling argument that the "safety in numbers" phenomenon that many cities lust after is best sought by making changes to street design "to create bicycle friendly streets that will make it comfortable enough for the average Jane and Joe to take up bicycling."So, the question becomes how to encourage people who don't currently ride to start bicycling – not just as a hobby, but for transportation. Cities with bicycle facilities that are dedicated to riders – not placed randomly throughout the city and then only located between moving and parked cars – have more riders.  An interesting post in the New York Times by Nancy Folbre makes a case that bicycle infrastructure is an important component in compelling people to ride – many of the "top 10" cities for bike infrastructure also top the list for numbers of bike commuters.
Recent research provides support for focusing on separation of cyclist facilities.  Harvard researcher Anne Lusk found a 28 percent lower injury rate for cyclists riding on separated cycle facilities compared to a similar street without separation.  The separated bike facilities also had about 2.5 times as many riders.  In New York City, protected bike paths are increasing bike modal share and safety.  Both women and men are using separated bicycle lanes at more equal rates, whereas roads without separation (even the same road before redesign) are used predominately by men.
It's interesting that changes in infrastructure are being met with gains in both ridership numbers and diversity.  But infrastructure improvements are just half the battle.  Changes to the "culture of cycling" are also paramount.  Europeans don't view bike riding as a hobby or limited to child's play.  Instead, it's a "serious form of urban mass transportation."  Bike riding in the US is usually for the road-bike-using, spandex-wearing elite – not everyday commuters in work slacks going a speed that won't merit a shower at the end of the ride.  I have long felt a little scared of hopping on my bike and sharing the bike lane (or more likely the road shoulder) with these cyclists.  I didn't want to get in their way, with their toe clips and bike computers.  The typical US cyclist is often stereotyped as "an exotic species – macho, ultra-fit, almost entirely young, white, and male, clad in lycra or spandex, who ride like madmen all over city streets.  Some of us admire them, some of us revile them, but most of us can't imagine joining their ranks."
Making riding in the US safer will require work on at least two fronts.  We need to implement plans for networks of bicycle facilities.  We need to push for more research to show what works and what doesn't.  We need to add infrastructure to city streets to give bikes a place on the road.  This needs to be informed by research on when separation of cyclists and cars is essential.  This will encourage those riders who are "Interested but Concerned" – a giant piece of the pie of potential riders – to try commuting on two wheels.  We need to push for solutions that encourage women, children, and elderly riders to take to the streets.
I am convinced about the importance of planning and infrastructure improvements when comparing a cycling culture like the Netherlands with the US.  Side-by-side, here are the numbers:
| | | |
| --- | --- | --- |
| Country | The Netherlands | United States |
| Miles of separated cycle tracks | 18,000 miles | 20 miles |
| % of commuters on bike | 25 percent | Less than 0.5 percent |
| % of bike commuters that are women | 55 percent | Less than 25 percent |
Infrastructure improvements will naturally help develop a culture of cycling in the US and a greater diversity of riders.  As more people are riders and drivers, I think that cycling will become less marginalized in the US.  My fear is that bike crashes like the ones lately will scare more potential riders away.  My hope is that the community who would like to see riding as a respected and mundane form of urban transportation will stay on their bikes – eyes wide open, lights flashing, florescent vests on – and keep pedaling to a better future.
We've blogged about our ideas for reforming sidewalk cafe rules before, noting that it would take a change at the state level to put sidewalk seating in smarter locations from a mobility and accessibility standpoint. We're thrilled to learn, via the West Seattle Herald, that a new interim rule does just that:
The Washington State Liquor Control Board this week adopted an interim policy allowing Seattle restaurants to establish sidewalk cafés in more locations. Existing rules limit sidewalk café alcohol service to areas immediately adjacent to a building. In many cases, sidewalks in these areas are not wide enough to allow for both pedestrian travel and a café. The new rules give restaurants more flexibility, including an option for curbside sidewalk cafés.

"This rule change is a big win for our local businesses and neighborhoods," said Mayor Mike McGinn. "We worked closely with the Seattle Department of Transportation, the Department of Planning and Development, and the Liquor Control Board to get this done. Allowing more sidewalk cafés will help improve urban vitality and give restaurants and patrons more choices."

"We support the City of Seattle's efforts to make outside dining more accessible," said Washington State Liquor Control Board Chair Sharon Foster. "This has been a collaborative process that we hope will be positive for licensees choosing to participate. While the effort was shouldered by the City of Seattle, this interim policy will apply statewide."

"We're really excited about this new rule change," said Josh McDonald, of the Seattle Restaurant Alliance. "This will help bars and restaurants expand and provide a better climate for new customers, and will also help with the city's plan to activate outdoor spaces including sidewalks, plazas and parks."

Restaurants with an on-premise liquor licenses will be able to extend their food and alcohol service to the curb side of a sidewalk public right-of-way areas if their request to the Liquor Control Board is approved and if they are given a permit from the City of Seattle.

This new policy supports Seattle's comprehensive Nightlife Initiative, which aims to maintain public safety and provide businesses with greater flexibility to adapt to the market demands of residents and visitors. Last month Mayor McGinn took the first step toward changing state policy to allow extended service hours. More information about the Nightlife Initiative and its components can be found at http://www.seattle.gov/nightlife/.

via New policy expands sidewalk café options for restaurants and bars | West Seattle Herald / White Center News.
A recent blog written by Justin Martin of SvR Design caught my attention and brought back some fond memories of Copenhagen. I decided to pull out my external hard drive and find my own photos of Copenhagen's "Potato Rows" – a community of townhouses in the Østerbro neighborhood that was built in the 1800s as housing for workers and is now one of the most popular and highest-priced addresses in Copenhagen (oh, gentrification).
The Potato Rows, or Kartoffelraekkerne in Danish, features narrow streets that are utilized as a shared space between people and cars. The townhouse homes all have small gardens or courtyards that face the street, with front porches where neighbors can enjoy their private outdoor space. The private courtyard space has landscaping and short fences to buffer residents from the street activities and provide privacy, but there is a visual connection between the street and yard. When I visited the Potato Rows on a sunny afternoon, many neighbors were sitting on front steps reading a book or just enjoying the sunshine. Others were taking advantage of street furniture within the public rights-of-way.
American planners know the advantages of density, the need for a proper transition from private to public space, and the importance of encouraging homes to face the street. But, to me, the Potato Row's shared streets are what really makes the community stand out. While the streets have "sidewalks" that are slightly above the road, most people walk down the middle of the road. This is because the sidewalks are usually where cars park or where the many street amenities, including benches, play structures, picnic tables, and landscaping, are placed.
On these streets, people are prioritized.  This is reinforced by street furniture, play structures, and landscaping that are all placed in the streets themselves. These amenities take traffic calming to a level that I'm sure most American fire marshals would find completely unacceptable. But, the residents of the community seem to approve. And I think that is an important factor. As Danish planner and architect Jan Gehl says, places must be designed with people in mind and creating human-scaled communities is crucial. The Potato Rows stands out because of "the vibrant street life, sense of community and the walkability of the neighborhood," making it one of the most sought-after locations in town.
A few months ago, I wrote a deliberately provocative piece for the Great City blog that was meant to reframe some of our recent conversations around transportation and understand how they relate to civil rights. It was a sincere try, but perhaps painted with too broad of a brush and too dull of a mind.
In the future, I'd be wise to leave it to folks like Angela Glover Blackwell from the Bay Area's PolicyLink to make the case instead. In a recent interview with Grist, Blackwell takes on the issue of transportation and how it relates to creating a more just society. She states, in part:
One is that the bottom fifth of the nation, the poorest fifth of Americans, spend 42 percent of their annual household budget on an automobile budget, more than twice the national average. So for people who are poor, owning an automobile is a burdensome thing.

Nearly 25 percent of African-Americans do not have access to a car, compared that with 7 percent of non-Hispanic whites. You have nearly the same number of Latinos who do not have access to a car. So this is huge, this is not an isolated problem. For people who are spending too much of their income — over 40 percent just to own a car — clearly this has a devastating impact on the economy in terms of all of the things that people cannot do and cannot participate in.

For people who don't have access to cars and depend on public transportation, the current crisis is devastating. More than 110 cities have public transit routes that are at risk. Children can't get to school; people can't get to work. 80 percent of the nation's systems are either considering or have recently enacted fare increases or service cuts.

But here's something else that Americans need to know. Spending on transit generates more jobs than spending on highways. If our nation's 20 metro areas shifted just 50 percent of their highways funds to transit, they would create over 1.1 million new transit-related jobs in over 5 years. That's without spending a single dollar more.
Did you ever wonder where the term Liveable Streets comes from? It wasn't a Madison Avenue meme, but rather it is a term that came from the UC Berkeley academic Donald Appleyard who studied the effects that traffic have on the social performance of a street: how well people understand their environments, how safe they feel, and how connected they are to one another.
In this Streetfilms reexamination of Appleyard's work, we're reminded that mobility isn't just about getting around. The externalities of our transportation system also profoundly impact the broader world around us, including our sense of place.
Revisiting Donald Appleyard's Livable Streets from Streetfilms on Vimeo.
More data supporting something we passionately believe – cities can be good for us.
From About.com:
Enough of counting calories. For the past two years, AIA architects and government officials in New York City have been looking at ways architecture can promote healthy lifestyles. They've compiled their ideas in a 135-page booklet, Active Design Guidelines: Promoting Physical Activity and Health in Design.
And, from Infrastructurist, why suburban sprawl is so bad for us:
• Jeff Speck and Andres Duany, the authors of Suburban Nation, argue that sprawl is a root cause of many problems that America faces, from health to environmental issues. (WashPost)

• Speck also has a blog post and slideshow on the 10 worst things about suburban sprawl. (HuffPost)  More…
Illustrating Parking Reform with Dr. Shoup from Streetfilms on Vimeo.
What's wrong with this picture?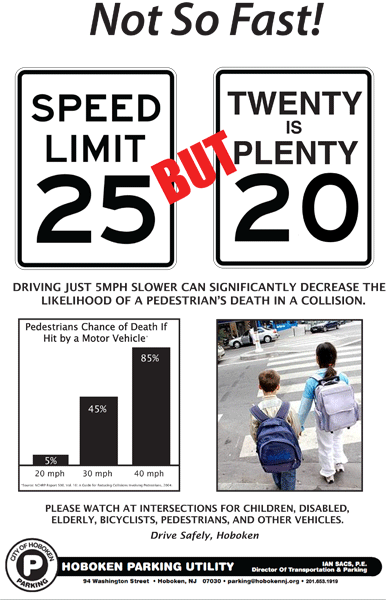 Last week we introduced you to some of the reasons why a 20 mile per hour speed limit might be a more healthy speed for city streets. This week, we introduce you to the good people of Hoboken, NJ who are embarking on the "20 Is Plenty" campaign to encourage residents to slow down.
This week, Hoboken is announcing its version of a highly successful awareness campaign practiced throughout Europe and, more directly translatable, the UK. In the UK, the campaign is called "20′s Plenty for Us", and in cities that adopt this policy, a 20mph speed limit area is established and signs are posted requiring drivers to obey the lower speed limit. While such a policy sends a strong message that residential and downtown areas should be synonymous to slow driving, illustrated in this production by streetfilms, implementation stateside is not nearly so easy. In Hoboken's version, "Twenty is Plenty", we are campaigning that drivers "consider driving" 5mph slower than the posted 25mph speed limit because this small change in speed has a major impact on the chances of fatality in a pedestrian-vehicle collision. We'd love to enact a lower city-wide speed limit, but we are bound to traffic engineering guidelines that were established when driving a car fast was all that mattered. If drivers agree with the message and choose to slow down, changing the speed limit may eventually come within reach.
Even though we won't win a free trip to Portland for saying this, you should really be reading Sightline Daily. We like the regional round up of sustainability topics they find from all over the region, like this from the Tyee:
Road and stormwater infrastructure often destroys the ecological function of the land that supports it and burdens home buyers and taxpayers through its cost to install, maintain and replace. Since the end of the Second World War, the per dwelling unit cost for providing, maintaining and replacing infrastructure (defined here as the physical means for moving people, goods, energy and liquids through the city) has increased by nearly 400 per cent according to some estimates.

Most of this per capita increase has been the consequence of ever more demanding engineering standards for residential roads, coupled with the gradual increase in per capita land demand over the decades (or at least until the year 2000), a consequence of universally applied sprawl patterns throughout the United States and Canada.

The first costs of these ever more odious engineering standards and ever more exclusive zoning regulations were often invisible to the taxpayer, buried as they were within the costs of the original home purchase. More…

Great City volunteers and sustainable transportation advocates on Capitol Hill have been conspiring and brainstorming together for years.  We've been thrilled to see the great traction our friends on the Capitol Hill Community Council (CHCC) are getting with their innovative "Complete Streetcar" concept.  Here's an update from the CHCC's Mike Kent:
On Tuesday, May 4th, more than 50 transit advocates and active community members joined the Capitol Hill Community Council's Complete Streetcar Campaign at Capitol Hill's Sole Repair lounge in celebrating the group's recent successes.

The day before, the Seattle City Council voted into law legislation that brought the proposed First Hill Streetcar closer to completion.


The party honored the group's success in advocating for an alignment that would run in both directions along Broadway north of Union Street, instead of looping around Cal Anderson park.

The group's next steps include calling for an extension of the proposed streetcar route beyond Denny Way to the northern end of Broadway near East Aloha Street, as was originally envisioned, and pushing for a streetscape plan that includes, among other things, a separated two-way cycle track.

If you are interested in becoming active with the Complete Streetcar Campaign, send an e-mail to chcc.streetcar@gmail.com.
Great City is Pleased to co-sponsor the Green Alleys Competition!
Seattle's alleys offer intimate, small-scale spaces that, properly staged, invite people to walk and promise a host of sustainability benefits. Introducing greenery to Seattle's forgotten spaces can create a small ecological system of its own by filtering city runoff before it hits the Puget Sound.
How green is your alley? The City of Seattle, the International Sustainability Institute, People for Puget Sound, and the AIA Seattle is sponsoring a contest on how to green our alleys. An all-star cast of designers, planners, residents and other alley-lovers will judge the entries for their originality, cost-effectiveness and practical implementation.
Join us in a unique design competition to green Seattle's alleys
For more information send an email to:
green_alleys-subscribe@yahoogroups.com
OR email darby.watson@seattle.gov
Here is a PDF document containing project info, submission requirements and maps of the project area: Green_Alleys_info.pdf (836 KB)

Interested parties can get more information by subscribing to (emailing): green_alleys-subscribe@yahoogroups.com
Official Press Release Follows:
Guiding Principles
Alleys are a key resource in Seattle. Traditionally restricted to service uses, the Clear Alleys Program has opened up opportunities to use alleys in different ways. This design competition is focused on potential new uses that in combination could add functionality to our transportation and ecological systems as well as improving the aesthetic and community-building elements of our City. Below are some guiding principles to help you in your design of Seattle's best Green Alley:
Green alleys should:
Welcome pedestrians, both as walkways and places to visit
Incorporate green stormwater infrastructure in both functional and aesthetic aspects
Encourage building design to provide doors, windows, and other elements that support non-service uses
Continue to provide access for service vehicles
Judging Criteria
Design innovation and quality: 40%
Thoughtful integration of green stormwater infrastructure: 20%
Response to culture, community, and context: 20%
Transferability of ideas and approach to other alleys: 20%

Submittal Requirements

Registration fee $10, payable at the time of submission to International Sustainability Institute, (ISI) (cash or check only)

Up to two (2) 30″x40″ presentation boards (orientation may be landscape or portrait), include a CD with electronic versions of all boards in PDF or JPG format

Address specifically the Nord alley within the project area (see project area information packet)
Design on one side only of presentation boards, backsides should list submitters' name(s), contact information and submission category

Graphics may be any combination of sections, plans, and sketches that helps to convey your design
Limit one submission per individual or team
Submission Categories
Submit under one category only:

Student or New Professional: include current quarter enrollment information or proof of graduation from a degree or certificate program within the last three years.

Non-affiliated designer: include a personal statement that you are not currently employed with a firm or agency where your primary role is design work.
General: includes individuals, firms, or groups that are currently employed in a design field.

Assumptions and notes:

For this exercise assume that soils beneath the alley right-of-way are sufficient for stormwater infiltration (1″/hour permeability)

The use of the Nord Alley does not preclude designs that may not comport with the Pioneer Square historic guidelines, the judging criteria includes the ability of a design to be transferable to other alleys within the City

Designs may be proposed for within the right of way of the alley as well as retrofitting the existing buildings as those designs support the Guiding Principles for creating a Green Alley

All electronic submissions become the property of the City of Seattle

All submission materials will be available for pick up at ISI offices on March 5 during regular business hours

Prizes:

Grand Prize: Open to general submissions
Best Student/New Professional:
Best non-affiliated designer:
People's Choice: Winner selected at the alley party – see schedule

We are awaiting confirmation of a cash award for each prize along with a super-cool trophy!
All submissions will be published on the SDOT blog.

Schedule

Week of January 11: Release schedule, regulations, and base information on Yahoo Groups

February 22: Entries due to ISI offices by 5 pm PST (314 1st Avenue South, 206-381-1630)

February 24: Judging panel reviews and selects winners

March 4: First Thursday Alley party, all entries displayed and winners announced in the Nord Alley

Co-sponsored by:

Great City, AIA Seattle, Pioneer Square Community Association, People for Puget Sound, City of Seattle, Great City, Downtown Seattle Association, Feet First, and the International Sustainability Institute.
This next Monday, October 26, Seattle City Council will be considering whether or not to repeal the Employee Hours Tax (aka, the "Head Tax"). Regardless of how you feel about the repeal of the tax, the potential loss of a funding mechanism for Bridging the Gap sends a dangerous signal about Seattle's transportation priorities. The Mayor has stated he wants to make Seattle into the most pedestrian- and bicycle-friendly city in the United States. This is the time for us to walk our talk! The improvements identified by both plans make it safer for our children to walk to school and in their neighborhood. They help our seniors to continue to be mobile. They help us reduce our reliance on the automobile and reduce our carbon footprint. They also ensure the health of our business districts and other community places.
Please email city council members today and urge them to allocate funding sources for bike and pedestrian infrastructure. And if you are free, please consider attending the city council hearing on Monday at 5:30 pm at the Council Chambers in City Hall.
Saturday 10am-3:30pm
Seward Park, 5895 Lake Washington Blvd. S, Seattle, WA 98118
Attendees are encouraged to use less environmentally harmful transportation choices to arrive at the event such as transit, carpools, vanpools, bicycling and walking. Parking will be limited.
aLIVe
Please join us for a Great City event that promises to re-energize how we think about our transportation system. On Saturday, August 22nd a Low Impact Vehicle exhibition (aLIVe) will be at Seward Park from 10am – 3:30pm.
The term "low impact" has a dual meaning describing both the impact of a vehicle on a pedestrian, as well as the environmental impact. The implementation of low impact vehicles would generate a huge range of public benefits, including increased mobility for transit and freight.
A bicycle is a low impact vehicle, but what else can we imagine? Great City board member and artist Cheryl dos Remedios artists, inventors and community members to imagine a transportation system designed around the human body. Everything from poetry to prototypes will be on display!
Artists/Inventors:
Vaughn Bell, Susanna Bluhm, Clair Colquitt, Nicole Kistler, Joseph Kochanowski, Brian McAllister, meadow starts with p, Lucas Spivey, Peter Reiquam and Kristin Tollefson
Activities:
Sustainable Ballard's Undriver Licensing Station
SvR Design's DIY LIV table and Haiku Project
People's Choice Awards
Performances:
Opening Ceremony by T'ilibshudub, 10:30am
Barefoot in the Park by Alex Martin, 1:00pm
Sponsors:
4Culture, Cascade Bicycle,greenmuseum.org, Seattle Art Museum, Seattle Office of Arts & Cultural Affairs, Seattle Parks & Recreation, Anne McDuffie and SvR Design, in conjunction with "Healthy Parks/Healthy You"
Brought to you by Great City
Organized by Cheryl dos Remédios
Participate at http://seattlegreatcitynetwork.ning.com/group/alive
Weekend of Eco-Art activities in Seattle
August 22 and 23 is a great weekend to vacation in Seattle. There are several exciting grass roots events that promise to be both fun and meaningful. Start with aLIVe on Saturday morning. Join the Rainier Valley Sustainable Garden Tour. Then hook-up with the Bicycle Music Festival in the late afternoon or evening. Attend Arts-In-Nature at Camp Long on Sunday.
Rainier Valley Sustainable Garden Tour
Saturday 10am-4pm
www.rainiervalleygardentour.org
Bicycle Music Festival / Seattle
Saturday 10am-11pm
Various Seattle locations, including:
10am at Waterfront Park, 1300 Alaskan Way
3pm at Denny Park, 100 Dexter Ave N.
7pm at the Seattle Center Mural Amphitheater, Seattle Center, 305 Harrison Street
www.seattlebicyclemusicfestival.com
2009 Arts in Nature Festival
Saturday 11am-9pm and Sunday 11am-6pm
Camp Long, 5200 35th Ave. SW at SW Dawson St, Seattle, WA 98126
Suggested donation: $5 per person
www.naturec.org/festival
Transit: For Camp Long: Metro bus #21, Click here for a map of Camp Long and vicinity.
Questions?
Questions are welcomed! Please contact Cheryl dos Remédios, exhibition organizer atcheryldosremedios@gmail.com. This is a volunteer position, so please anticipate a response within 1-3 business days.