Here's a novel way to fill a new street-level commercial space: ask those out and about (on that street) what they'd like to see there.
Perhaps taking cues from guerilla-planner Candy Chang, Fast Company reports how one Seattle project is asking passersby to, at least in part, help with their market analysis.
People don't often show up to town hall meetings unless they have a problem. That means in many cities and towns, there is a gaping hole where creative community voices should be. In Seattle, Swedish developer Skanska is trying to make a dent in the problem by letting the community influence what shops and restaurants go on the ground floor of a new 13-story office building near Amazon's headquarters (the neighborhood is sometimes called "Amazonia").

Before beginning construction, Skanska decided to ask the local community what they would like to see in the open-air market space on the first floor of the yet-to-be-constructed building. But Skanska isn't asking anyone to show up to in-person meetings. Instead, the developer is using an online service called Popularise that lets people submit ideas for local projects and vote on them.

There are 36 ideas for the 400 Fairview project in Seattle, including a Babes in Toyland sex toy store, a brewery, a hot yoga studio, an indoor bocce ball court, a Stumptown Coffee shop, a blow dry bar, and a sushi restaurant. For anyone who isn't digitally inclined, Skanska has also set up chalkboards at the project site for people to write down their suggestions… (Continue Reading 1 | How One Developer Is Making Sure That Its Buildings Are Shaped By The Community | Co.Exist: World changing ideas and innovation)
Check out this example of rethinking automobile-oriented development… What are some of your favorite places in Seattle that used to be all about cars, and now are increasingly about people?
Kathleen OBrien recently returned to the former site of a derelict Sears Auto Store and now the award-winning high performance headquarters for RiceFergusMiller. This urban Infill project reveals how a sustainable built environment is about so much more than bricks and mortar. In 2009, James Jenkins and I met with RiceFergusMiller principals and staff to lay groundwork for sustainable goal-setting for their new office and studio. They had just purchased the old Sears Auto Center near their existing and crowded digs in downtown Bremerton and wanted to showcase sustainability. In addition to OBrien & Company, Shawn Oram from Ecotope participated in the workshop, bringing a depth of building energy expertise and innovative spirit.RFM was still in the process of cleaning up the building at the time to see what they had. As prelude to the workshop, we carefully and I mean carefully! wended our way through the abandoned structure that in the 80s had been an anchor for Bremertons retail business core. Old signage gave us an inkling of what it must have been like at its peak, but it was truly a mess. However, it was hard not to get too excited. Here was an existing building in a downtown that was crying out for revitalization, with a team invested in all three aspects of sustainability — environment, economy, and social benefit… (Continue Reading: RFMs Sustainable Urban Infill Project Transforms: More than Bricks and Mortar – Building Capacity).
Following the post-bubble lull, a new construction cycle has begun. Nationally, home builder confidence has reached a five-year high. Will this new round of development be sustainable? That all depends on where it happens. From the NAHB's Eye on Housing Blog, some encouraging signs that the market is reflecting the more responsible choice of living together, in multifamily buildings, closer to transit, education and work opportunities:
While single-family starts were down in July, multifamily construction continues to expand. Housing starts of units in buildings with five or more apartments came in at 229,000 seasonally adjusted annual rate, up 9.6% from the revised figure for June. The three-month moving average has been very stable, hovering between 205,000 and 210,000 for the past quarter. On a year-over-year basis, housing starts for 5+ units are up strongly, 30% since July of 2011.
Downtown Seattle is adding a few new towers, bringing folks right where the action is.
Construction is starting on a 40-story apartment tower in downtown Seattle across the street from the Paramount Theatre.

Developer Holland Partner Group is building the 386-unit, 444-foot-tall project at 815 Pine St. that is expected to open in late 2014.
The West Seattle Blog scoured the permits and put together a Google Map of all the SW Seattle developments underway, totaling 1,500 units. Check it out:
This week, the crane went up for the Oregon 42 project at 42nd and Oregon in The Junction… And today came the notification that 4724 California has applied for its land-use permit… along with a formal announcement of the 1st Design Review meeting for 3078 SW Avalon Way, as first reported here a week and a half ago… With these and other projects under way, there's always a commenter or two who asks "How many units are in the works, anyway?" We have finally taken an unofficial count, while making a Google Map of the ones we know about… (Continue Reading West Seattle Blog… » West Seattle development: 1,500-plus potential units in pipeline)
As always, keeping tabs on development out in the hinterland can be a slower process (if a developer fells a tree in the forest), and we may not know how we're doing against growth targets until someone performs research much more sophisticated than my passive scanning of urbanist blogs.
When it comes to sustainability, our fortunes may be more tied to Holland and HAL than Horton. We can practically monitor the former from our window… Please chime in if you are keeping tabs on the latter (or others), so successful in the creation of far-flung, auto-dependent developments.
An astonishing urban opportunity continues to march closer to reality:
The Yesler Terrace Special Committee of the Seattle City Council voted to pass the Seattle Housing Authority's Yesler Terrace redevelopment plan.

The plan moves the full City Council for a September 4 vote.

The plan received broad support from committee members despite several hours of testimony from concerned residents and project opponents at a public hearing last week. SHA Board Member Yusuf Cabdi resigned at the meeting, citing a lack of assurances that current residents would be able to return once the current buildings are razed and new, taller towers are constructed.

(Continue Reading: Central District News | News | Council Committee passes Yesler Terrace redevelopment plans)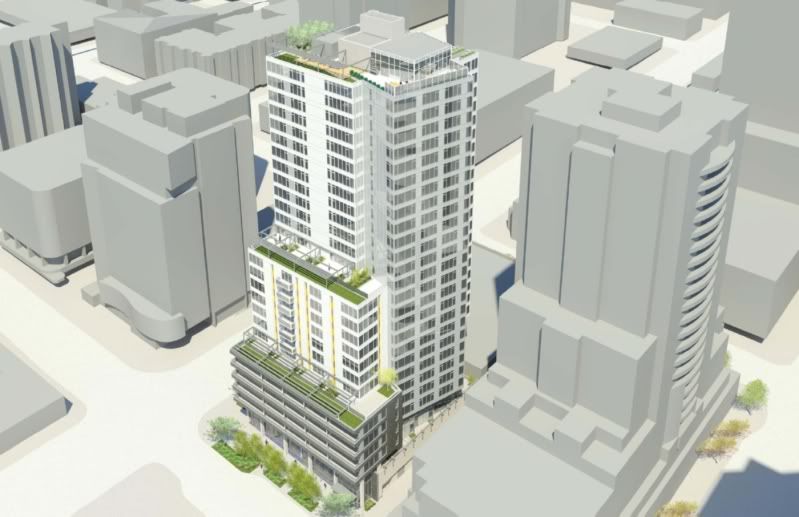 The Puget Sound Business Journal reported last week that Seattle's population grew by 2 percent between spring 2010 and summer 2011. We also learned of another highrise apartment tower that will help add to the supply of housing in Seattle as Western U.S. Cities are projected to continue to attract more new growth than other areas.
The DJC reported that Third & Cedar LLC sold the site and tower design to Wood Partners for $13.2 million on Monday.  Wood Partners has indicated that they have plans to continue the 27-story, 298 unit apartment building with Hewitt (architect) & Anderson Construction Group.

According to the Anderson Construction website, the project will be built using a "top/down" method which will allow them to build up while floors are constructed underground.  This will allow them to complete the build in just three months and ground is supposed to break in September 2012!

Sad to say that many views on the east side of Seattle Heights will soon disappear BUT overall the building will be a great addition to north Belltown neighborhood bringing more housing and retail opportunities! (via UrbanAsh » Blog Archive » 3rd & Cedar: Project slated to be a 27-story, 298 unit apartment building!)
Publicola, in case you hadn't heard, is back. The indispensable source of local politics, policy and public-sector gossip lives on as a part of Seattle Met. Today, Erica C. Barnett posted a summary of some of the tasks before proponents of the arena that could bring the Sonics back to Seattle:
More details (than you probably ever wanted to know) emerged from today's arena council briefing, which we mentioned in Fizz this morning, on the transportation and land use impacts of the proposed arena.

Council members, of course, have declared themselves universally "agnostic" on the arena (even Richard Conlin told PubliCola that he isn't opposed opposed to the project, he just has lots of questions). But their questions for staffers definitely trended more skeptical than supportive.

Here's some of what they learned:

• Although the plan calls for a new pedestrian plaza connecting Safeco Field and the new arena along what is now Occidental Way, the area around the stadiums in general is zoned specifically to discourage hotels, housing, and street-level retail uses—the kind of stuff that draws pedestrians to an area… (Continue Reading Arena Land Use and Transportation Challenges | PubliCola)
This is a guest post by Maggie Humphreys, who works with Skanska on communications and public affairs initiatives and shared this reflection on the June 28 Brownbag about the Living Building Pilot Program. We welcome guest posts on topics relating to the built environment and Smart Growth in Seattle.
There is one major roadblock for deep green building in our cities and it isn't a lack of interest from developers and design teams. Stonewalled lenders at banks and other financial institutions are wary of investing funds into green buildings for fear that they won't be price-competitive and financially sustainable.
Last week, Lisa Picard, executive vice president of Skanska's west coast commercial development unit, shared how Skanska's Stone34, the first project designed for a market rate tenant in Seattle's Living Building Pilot Program, is working to create a new economic structure where both developers and lenders can confidently invest in deep green buildings.
During the presentation, Lisa shared this graph which describes the difficulty in achieving deep green sustainability. Projects pushing the status-quo inevitably garner high levels of criticism – from both lenders and from community members, or quoting Voltaire, "The perfect is the enemy of the good."  Moving from the status-quo means changing from the expected and creating a new norm—a process necessary for positive change. Stone34 is looking to prove that deep green designs and technologies can be incorporated into a building that's affordable for all tenants and patrons at a market-competitive rate; to create a new norm. Further, it will demonstrate to the community how intentional place making and built environment can foster better communities.
Accompanying Lisa at the brownbag were Jim Weber, CEO of Brooks and Jessica Clawson, a local land use attorney working with Skanska on this project. Environmental and land use attorney Chuck Wolfe moderated the panel. Jim noted that as a smaller company, their greatest risk would be to stick with the pack and maintain the status quo. The same stands for land use and development – the greatest risk would be to continue on the path of today's building practices ignoring the opportunity for addressing our biggest challenges. Stone34 represents a key opportunity to disrupt the status quo and establish deep green building as the new norm.
King County Councilmember Bob Ferguson and Seattle City Councilmember Mike O'Brien to hold joint town hall meeting on NBA & NHL arena proposal
Come meet with County and City representatives and ask questions about proposed arena.
Tuesday, July 10
7:00 – 8:00 p.m.
North Seattle Community College
Cafeteria, College Center Building
9600 College Way North
Seattle, WA
Under the proposed memorandum of understanding negotiated between County Executive Dow Constantine, Seattle Mayor Mike McGinn, and private investor Christopher Hansen, up to $200 million for the arena would be financed through public bonds that would be paid back from rents and tax revenues generated by the facility. You can learn more about the proposal at the Seattle City Council's arena proposal page.
"The proposed arena is an important issue currently before the county and city councils. This meeting will give community members the opportunity to ask questions, express their thoughts, and know their voices are being heard," said Ferguson. "As an elected official, I believe it is important to meet with and hear directly from the public and the people I represent."
"As both City and County Councils are digging into the details of the arena proposal and beginning to understand the potential benefits and risks to the region, it is critical we are also hearing from the public," said O'Brien. "We are receiving thousands of emails on the topic, but there is nothing like getting out in the neighborhood and engaging directly with the people we represent."
The King County Council and Seattle City Council are currently reviewing a proposal for development of an approximately $500 million multi-purpose arena. Under the proposed memorandum of understanding negotiated between County Executive Dow Constantine, Seattle Mayor McGinn, and private investor Christopher Hansen, up to $200 million for the arena would be financed through public bonds that would be paid back from rents and tax revenues generated by the facility.
More details about the town hall meeting are available here
Hear directly from Crosscut Contributor, Historic Preservationist and Architect Patricia Tusa Fels at our upcoming July 12 Brownbag, also featuring Liz Dunn, Dennis Meier of DPD and Great City Board Member and Architect Jeff Reibman. We'll be taking a look at Development activity in Seattle's Pike/Pine neighborhood and strategies to retain the dynamic and diverse culture that makes it such a hotspot to live, work, play, and build.
Nearly all talk of the environment in and around Seattle is about the mountains and the sound, rivers and hiking trails. Yet most of us spend a big portion of our time in the urban environment, which has an effect on all of us: our wellbeing, our outlook, our family life, and prospects for our work and leisure. There is a serious disconnect between our collective reverence for the outward "environment," and our willingness to let the city's own environment be shaped by developers.

It is especially ironic that Seattle, situated amidst glorious and gloriously complicated ecosystems, leaves the guidance and stewardship of its experiential environment to private developers and their tendencies towards monoculture. It is naïve and irresponsible that we assume their focus is on the overall vitality of the streets and neighborhoods in which their buildings sit.

Instead, the city should be looking creatively and deeply at the land use rules on the books, with an eye towards eliminating or modifying those that don't foster the complexity of the place. Diversity by design is the key to creating a city that can be seen, experienced, worked and lived in by more of its citizens and visitors… (Continue Reading: Why Seattle needs a new urban environmentalism | Crosscut.com)
Just how green can a green building get? Come join us at noon today to find out, and learn how you can play a role in advancing the changes that, if approved by City Council, could make our green building dreams come true.
You may have seen some of our earlier posts on the topic… today we are thrilled to be convening a group of green building leaders to talk about a proposed project in Fremont and some proposed legislative changes that could make it possible for more Seattle buildings to go easy on the grid.
Impressive urban developments seem to be springing up all over the world, many of them designed by U.S. architects. But while American architects and planners increasingly embrace walkability, the fine grain urbanity that makes cities vibrant places is almost completely absent in newer projects abroad. In short, they may look like Manhattan from a jetliner but function like Phoenix on the ground. Julie V. Iovine, executive editor of the Architect's Newspaper, calls on professionals to fight for what works.
…Recently, for the Korean developer aptly named Dreamhub, Daniel Libeskind created a master plan for 34 million square feet based on the concept of islands in a sea of green, called Archipelago 21. That's for the 21 or so renowned architects—many American—each doing their own thing in the splendid isolation of their own "island" see a few of them on page 8. Even as the plan invokes sustainability, high-speed rail and green spaces, it barely addresses the street-level experience of people trying to get from, say, Murphy Jahn's 1,050 foot double-tower with its four-story skyparks and solar shading to REXs high-performance, "mega-braced" frameless facade for a short term residence or to SOM's 64-story diagonal tower with monumental lobby braced by what appear to be the very legs of Ozymandius… (Continue reading: Editorial> Walk the Walk – The Architects Newspaper)
TIME's EcoCentric blog has a cool profile on the astonishingly green Bullitt Center. The building was the first project to apply as part of Seattle's Living Building Pilot Program.
How can a six-story, 50,000-sq.-ft. office building in downtown Seattle function completely off the grid? The answer involves solar panels for energy, geothermal wells for heat, a giant rain cistern for water and composting toilets for keeping sewage out of everything else. The toilets were just installed at the Bullitt Center, which is set to be completed this fall. "You have to remember to flush before and after," says Bullitt Foundation president and Earth Day founder Denis Hayes. "But that may be the single largest lifestyle change."

Hayes's Seattle-based sustainability-advocacy group is bankrolling the largest multistory project that is trying to meet the superstringent requirements of the Living Building Challenge LBC. Created in 2006 by the Portland, Ore.,-based International Living Futures Institute, LBC calls for buildings to not only have net-zero energy and water systems, but to use half the energy required to get LEED platinum certification which is administered by a fellow nonprofit. LBC won't certify a building as "living" until it has proven it meets the group's goals for a full year after people move in. So far LBC has certified only three buildings worldwide, all of them in the U.S. and all exponentially smaller than the Bullitt Center. Another 140 projects in eight countries are vying for the designation.

What makes the Bullitt Center so impressive is its height — or, more accurately, its relatively small rooftop — and its location. While it's pretty easy in cloudy Seattle to harvest rainwater and treat it via an onsite biofiltration system, getting enough sunlight to power the building required rethinking every aspect of the project, big and small. The builders had to get a variance from the city to let its rooftop solar panels hang out over the sidewalk. But the solar panels won't do all the work. The building's design and its tenants have important roles too. To help cut energy consumption to 23 percent the amount of a traditional building its size, natural light will account for 82 percent of all lighting, thanks to oversized windows and higher ceilings that help get light farther inside. And so will air, as the building's electronic "brain" automatically opens and  shuts the windows based on temperature needs, eliminating the need for air-conditioning units… (Continue Reading Seattles Bullitt Center Will Be the Greenest and Most Sustainable Commercial Building in the World | Ecocentric | TIME.com)
Join us on June 28 to hear about the first project for commercial, market-rate tenants to participate in the pilot program, Stone34. Our expert panel including Brooks Sports CEO Jim Weber–who is moving his company's headquarters to Seattle to occupy that building–will share an update on efforts to improve regulatory conditions to encourage more such ultra-green buildings in Seattle.
Growing up–urban "infill" development–offers numerous lifestyle, economic and environmental advantages over growing out, or, sprawl. But one planned redevelopment of the Capitol Hill block home to Bauhaus and other local favorites highlights the issues at play as our community grapples with the challenge of accommodating growth in character-rich neighborhoods while retaining the diverse, dynamic vibrancy that makes them so attractive to investment and development.
Check out this recent commentary from an architect-historic preservationist and artist-activist and join us Thursday, July 12 as we look at the City of Seattle's Pike/Pine Conservation Overlay District and hear from those most familiar with what the policy does and doesn't mean for the future look and feel of Downtown's lifeline to Capitol Hill culture.
Having just returned from working away from Seattle, it feels good to be back. One of the pleasures of extended stays abroad is experiencing our home city with fresh eyes. But reentry this time was marred by news that the Bauhaus Block on Capitol Hill is to be developed, with only the building's façade to be left.

This bit of news raises a larger question about the city's role in development. Does the city of Seattle have a responsibility to protect small businesses, popular culture, and the vitality of its street life? Or should it only be responsible for upholding the 'rights' of developers?

For decades here in Seattle, through mayor after mayor, the litany has been the same — if 'we' don't give developers what they want, they'll go elsewhere. It's quite difficult to know whether this dictum is true, since the opposite strategy has so rarely been tried here, but looking around the city it's easy to see what this trend has cost Seattle: Its vaunted quality of life, its standing as a 'green' city, and its general appearance… (continue reading: If it ain't broke, don't tear it down and build condos | Crosscut.com).
Roger Valdez, who directs housing programs at a local non-profit, proposes a novel solution to the Pike/Pine push/pull at the heart of the goals of the City's Conservation Overlay District
Urban infill development can bring precisely the kind of fuel small businesses need: more people living above and around the neighborhood's commercial district. But some have expressed concern for existing businesses that may lie in the path of future development…
How can the the Green Bay Packers represent a model for communities who wish to control their own destiny while respecting ownership rights? As you might have guessed, it has to do more with organizing than the offensive line. Read on for more, and join us at GGLO's Space at the Steps for our July 12 Brownbag. We will look at the Pike/Pine Conservation Overlay District with the help of those most familiar with what the policy does and doesn't mean for the future look and feel of Capitol Hill's lifeline to Downtown commerce.
The possible redevelopment of the Bauhaus block on Capitol Hill has generated some fruitful discussion about land use, preservation, and the basis of our economic system, capitalism. Many people have asked: Is that all there is, price tags and profits? Don't culturally important buildings have an intrinsic and financial value?

The answer is that historic buildings often do have special values, and we can preserve and profit at the same time if we focus on solutions, and avoiding the blame game.

People can get understandably upset when an owner decides to change how a property is going to be used, even though ownership is a basic principle we all understand. When we buy something we're taking what we've worked for and acquiring something of value and making it ours. Sharing is also a basic principle, and we expect commercial space to have some public component… (Continue reading: "Bauhaus solutions: Preservation isn't free" by Roger Valdez at Crosscut.com.)
Posting on the Congress for the New Urbanism's blog, Michael Lewyn, author of "A Libertarian Smart Growth Agenda," makes the argument that while small towns can be walkable without being densely developed, the opposite is true for urban areas. Have you experienced both small town and big city walkability? Is density truly the secret ingredient?
Los Angeles has over 7000 people per square mile, yet doesnt have a reputation as a particularly walkable place.  By contrast, I was pretty happy living without a car in Carbondale, IL a small college town with 2178 people per square mile.  How come?

I would suggest that the bigger a city is, the more dense it needs to be to be walkable and transit-friendly.  For example, suppose that city X has 4000 people and encompasses only 1 square mile, while city Y has 2.1 million people and 300 square miles.  City X is less dense than city Y- it has 4000 people per square mile as opposed to city Ys 7000.  But obviously city X is more walkable: a person of average walking speed can get from any point to any other point in 20 or 30 minutes on foot.  In such a small place, only the elderly and disabled will need public transit.

By contrast, in a 500-square-mile city, walking outside your neighborhood will be pretty time-consuming.  So you will need New York-level density and transit service to enable most people to function without cars… (Continue reading: How Much Density Is Enough? It Depends | Congress for the New Urbanism).