Following the post-bubble lull, a new construction cycle has begun. Nationally, home builder confidence has reached a five-year high. Will this new round of development be sustainable? That all depends on where it happens. From the NAHB's Eye on Housing Blog, some encouraging signs that the market is reflecting the more responsible choice of living together, in multifamily buildings, closer to transit, education and work opportunities:
While single-family starts were down in July, multifamily construction continues to expand. Housing starts of units in buildings with five or more apartments came in at 229,000 seasonally adjusted annual rate, up 9.6% from the revised figure for June. The three-month moving average has been very stable, hovering between 205,000 and 210,000 for the past quarter. On a year-over-year basis, housing starts for 5+ units are up strongly, 30% since July of 2011.
Downtown Seattle is adding a few new towers, bringing folks right where the action is.
Construction is starting on a 40-story apartment tower in downtown Seattle across the street from the Paramount Theatre.

Developer Holland Partner Group is building the 386-unit, 444-foot-tall project at 815 Pine St. that is expected to open in late 2014.
The West Seattle Blog scoured the permits and put together a Google Map of all the SW Seattle developments underway, totaling 1,500 units. Check it out:
This week, the crane went up for the Oregon 42 project at 42nd and Oregon in The Junction… And today came the notification that 4724 California has applied for its land-use permit… along with a formal announcement of the 1st Design Review meeting for 3078 SW Avalon Way, as first reported here a week and a half ago… With these and other projects under way, there's always a commenter or two who asks "How many units are in the works, anyway?" We have finally taken an unofficial count, while making a Google Map of the ones we know about… (Continue Reading West Seattle Blog… » West Seattle development: 1,500-plus potential units in pipeline)
As always, keeping tabs on development out in the hinterland can be a slower process (if a developer fells a tree in the forest), and we may not know how we're doing against growth targets until someone performs research much more sophisticated than my passive scanning of urbanist blogs.
When it comes to sustainability, our fortunes may be more tied to Holland and HAL than Horton. We can practically monitor the former from our window… Please chime in if you are keeping tabs on the latter (or others), so successful in the creation of far-flung, auto-dependent developments.
Did you know Bike Share is coming to Seattle? Here's the Seattle Times on the plan, in case you missed it earlier this month:
Momentum is growing to build a bicycle-sharing network in Seattle by mid-2013, if a nonprofit coalition can gather a few million dollars.

Puget Sound Bike Share hopes to follow the lead of Capital Bikeshare in Washington, D.C., and other operations around the world.

The proposed initial phase would put 500 bicycles in downtown, South Lake Union, Eastlake, Capitol Hill, the University District and Sand Point. Future phases might include Ballard-Fremont, Overlake, downtown Bellevue and Rainier Valley… (Continue Reading Bike-share in Seattle: Start-up calls for 500 bicycles, a few million dollars | Local News | The Seattle Times)
First we hear trees are kicking criminal tail, and now it turns out p-patch veggies are not to be messed with. That kale your neighbor planted packs a punch. Both as a dose of nutritious fiber, vitamins and minerals, and as a kind of a natural security guard. Superfoods, indeed!
Community gardens have been long-regarded as symbols of neighborhood revitalization, but could a well-tended patch of grass actually help fight crime? A recently published study by the University of Pennsylvania's Perelman School of Medicine suggests the answer may be yes.

Researchers randomly selected two clusters of vacant lots in Philadelphia — one that was later greened and one that functioned as the control — to examine the effects of greening. The researchers found that greening the vacant lots made nearby residents feel significantly safer, and that the greened lots could be linked to reductions in certain gun crimes in the area. Police crime data showed that area assaults both with and without guns lessened after the greening. Researchers posited that the difference could be chalked up to the fact that it's easier to hide illegal guns and illicit activity in a trash-laden lot than it is in a green space, and that the greening may have fostered a greater sense of unity within the neighborhood.

The data expands upon findings from a study led by Penn epidemiologist Charles Branas, published in 2011, which compared thousands of greened and non-greened vacant lots over a nine-year period. The work of the Pennsylvania Horticultural Society's Philadelphia LandCare Program — an initiative responsible for the greening of 4,500 vacant lots, or 7.8 million square feet, from 1999 to 2008 — served as the basis for the study. The results of the study suggest that vacant lot greening was associated with reductions in gun assaults and vandalism in certain areas, and reports of reduced stress and increased exercise among residents in other areas… (Continue Reading: The Urban Garden as Crime Fighter – Next American City)
One of Seattle's highest-density neighborhoods, Belltown should have more than 8 acres of open space; according to calcuations on which city goals are based. A long-range effort is needed to secure adequate green relief, but in the short-term, working within resources made available through the Parks and Green Spaces Levy, (support for which Great City catalyzed and campaigned), construction is set to begin soon on a green street for the neighborhood. 
Many cities are turning to the model, having identified limitations in recreation opportunities while at the same time facing resource limitations. It is a perfect fit for communities where a belief in the value of more humane streets is growing. Learn about plans for Bell Street Park and how that model is already rolling forward on another exciting levy-funded project: the 14th Avenue NW Park in Ballard. Join us at noon on Thursday, September 13 at GGLO.
The Parks and Green Spaces Levy provides approximately $1.5 million for design and construction of the 14th Avenue Park Boulevard.

The project converts two full blocks of 14th Ave. NW to a new park between NW 59th and NW 61st streets with transitions lanes to the park from the north and south. A park will replace the gravel parking median and portions of the existing asphalt roadway. The project includes green infrastructure and incorporates safety improvements for pedestrians, cyclists and vehicles.

The design and construction of this project are funded by the Parks and Green Spaces Levy Acquisition Fund, which provides $24 million for the acquisition of neighborhood parks in up to 20 identified areas throughout the City. The Ballard Residential Urban Village was included in that list. The community prioritized this development project in lieu of acquiring additional property… (Continue Reading Seattle Parks and Recreation: 14th Ave NW Park / Ballard Hub Urban Village – Parks and Green Spaces Levy Project Information)
Please join us for lunch at GGLO today as we welcome Nancy Bird, Sandy Fischer, and Mike Kent. Nancy, Sandy, and Mike will present neighborhood streetscape reinvention projects and participate in a Q&A about lessons learned and the potential for more creative thinking about how we use our rights of way. Our Streetscape 2.0 series continues in September; we'll take a look at two exciting "green street" projects in development.
But first, here's a bit more on Mike and the Melrose Promenade project he'll be presenting today: 
Mike Kent has lived in Capitol Hill since 2009 and founded the Melrose Promenade project in 2010. He currently works as a Project Manager for Pastakia & Associates, and prior to that he worked for more than 10 years in the non-profit and public sector. His background is in urban planning, and he presently serves as chair for Leadership for Great Neighborhoods. Mike also served for two years as Vice President of the Capitol Hill Community Council.
Project Description:
The views from Capitol Hill's Melrose Avenue are among the best in the city, but the poor quality of the street itself threatens the public enjoyment of them. Since 2010, a group of community members has been working to remedy this. The Melrose Promenade project aims to create a more pedestrian- and bicycle-friendly street by widening and extending the sidewalk and adding benches, trees and other landscaping, pedestrian-oriented lighting, and public art. The project has earned the support of numerous community and civic organizations, property owners, businesses, and residents.
Join us tomorrow to learn about this "Save our Sandbox" campaign and other cool grassroots efforts to improve the street environment around it in Seattle's Tangletown neighborhood. We'll also have an update on another community streetscape reinvention on Capitol Hill called the Melrose Promenade. See you at noon at GGLO!
Paulo Nunes Ueno is a father of two who built a sandbox in the planting strip outside his Seattle home.

The sandbox became a focal point of his community. Following a complaint, he was asked to move it or pay a $500/day fine. SDOT has convened an internal task force to research the issue and in the meantime he can keep the sandbox where it is.

The City of Seattle has the opportunity to help knit tighter communities by loosening the rules that control how we use our planting strip.  We've put together a small graphic illustrating how silly this issue really is and encourage residents to voice their opinion to CIty Council as well.

Seems like everyday we retreat further into our phones, cars, tv's and computers. By allowing home owners and renters to create friendly gathering places in front of their houses, the city can help us knit tighter communities. Let's make Seattle a safer more kid/people friendly place! Legalize sandboxes! (Sign the Petition: City of Seattle: Save Our Sandbox | Change.org)
It might be a concept still in search of a name, but that isn't slowing the pace of high-performace, at-grade rail transit, according to Railway Age:
Rapid Streetcar has been catching on; Portland Streetcar's expansion from its original mixed-traffic operation into an exclusive railway alignment is one very tangible example. And it's been further popularized by Reconnecting America in its planning manual Street Smart. And several other cities, such as Seattle, are seriously eyeing this concept.
Similar to a Streetcar in terms of cost, but more like grade-separated light rail in terms of its ability to bypass traffic, some call the approach "Rapid Streetcar." But as the blog Raise the Hammer notes, use of that phrase needs to be quickly followed by a few clarifications:
The rapid streetcar concept takes the same features of light rail – speed, attractiveness, permanent tracks which draw large private investment and dedicated lanes… [and] we aren't talking about a bullet train speeding along killing people.
How then to talk about this in a way that results in immediate comprehension among the general public?
King County Metro took a long hard look at the existing lexicon for BRT, opting for a new brand in "Rapid Ride."
Anything along the lines of Streetcar Plus and Light Rail Lite both include mention of something less than, or something greater. But with financial realities in the face of Seattle's overwhelming desire* for more high-quality transit now, this concept seems to occupy the most realistic position among a field of possibilities.
…But …what is it called?
* With acknowledgement of our good friends over at Seattle Subway, who are quickly amassing a small army of energetic advocates for fully grade-separated transit. Seattle Subway's proposal eliminates any of this hand-wringing over branding with a conceptually simple, yet highly complex civil engineering project equal to Link Light Rail.
Freeing our cities from the clutches of ever worsening traffic gridlock may come in the form of a counter-intuitive solution.
BELLAGIO, Italy – Imagine cities built for billions of people without a single freeway. No "flyovers." No elevated roads or canyon-like depressed super-roads.

Advanced by American architect-planner Peter Calthorpe and Colombia's former Bogota Mayor Enrique Peñalosa, the idea caught the imagination of an international forum of city experts and advisers meeting at the Rockefeller Foundation's conference center in early August.

And why?

First, numbers. World cities (especially those of Asia, Africa and Latin America) will grow a stunning 72 percent by 2050, from today's 3.6 billion to 6.3 billion people, more than the total world population in 2002. The task of creating livable environments for the newcomers will be made even tougher by freeways that consume big chunks of cityscape, cut through and often isolate poor neighborhoods, and pollute prodigiously. Sold as congestion relief, urban freeways encourage more auto use and end up triggering some of the most massive traffic snarls known to humanity… (Continue Reading Citiwire.net » A 'Freeway-Free' Future for World Cities?)
An astonishing urban opportunity continues to march closer to reality:
The Yesler Terrace Special Committee of the Seattle City Council voted to pass the Seattle Housing Authority's Yesler Terrace redevelopment plan.

The plan moves the full City Council for a September 4 vote.

The plan received broad support from committee members despite several hours of testimony from concerned residents and project opponents at a public hearing last week. SHA Board Member Yusuf Cabdi resigned at the meeting, citing a lack of assurances that current residents would be able to return once the current buildings are razed and new, taller towers are constructed.

(Continue Reading: Central District News | News | Council Committee passes Yesler Terrace redevelopment plans)
Our credo is that smart and responsible urbanism offers solutions to many of our society's most pressing issues. One example is that great, vibrant, urban places don't just look better than spread out auto-oriented development, they work better. Part of that is because of the way they make us work. Working out is easier when it is a reasonable part of your daily routine, like commuting.
Obesity is an epidemic spreading from community to community across the United States. In 2011, the Centers for Disease Control and Prevention CDC estimates that more than one-third of U.S. adults 35.7% are obese; while in 1997 the obesity rate among adults was at 19.4%.  Childhood obesity is also on the rise. Since 1980, obesity prevalence among children and adolescents have almost tripled.  In 2011, the CDC reports that approximately 17% or 12.5 million of children and adolescents aged 2—19 years are obese. According to studies, obesity in both children and adults is not only a circumstance of eating unhealthy food, but also results from an inactive lifestyle.

Regular physical activity can reduce the risk for obesity and help people lead longer, healthy lives. Studies show that less than 10 percent of adults get the recommended 30 minutes of moderate-to-vigorous exercise per day. Walking and bicycling to and from work, school and errands is one easy way to incorporate physical activity in your daily routine, with the additional benefit of reducing automobile use.

The obesity epidemic is complex and finding lasting strategies that reduce its spread involves participation from many sectors. Currently, communities across the United States are doing their part to encourage active lifestyles for their residents. Many communities are promoting walking and biking by adding well-marked bike lanes on major routes, and also repairing and extending the sidewalk network to accommodate pedestrians. Studies show that cities with more sidewalks and bike lanes have a lower rate of obesity than those without active transportation options. (Continue Reading: Walking and Biking: The Key to Reducing Risk of Obesity? | Sustainable Cities Collective)
The latest PubliCalendar has lots of good picks for urbanist/political nerds. Check out two, coming right up, that we like a lot!
Northgate Link Extension Groundbreaking Ceremony

The Roosevelt High School Jazz band, a face painter and Sound Transit's traffic fighting superhero Zap Gridlock will all be making appearances to celebrate the groundbreaking for the extension of underground light rail to Northgate.

Northgate light rail groundbreaking, Friday, Aug. 17, 3:30-7:30 p.m., Former QFC site at NE 66th St. and Roosevelt Way NE. Free.

History Café: Public Transportation

In 1941, the city of Seattle tore up its citywide network of streetcar tracks and sold them for scrap. Now, we're building a new streetcar on Capitol Hill. What changed in those 70-plus years? And what does the future hold for streetcars in Seattle? Find out, and join the conversation about Seattle's streetcar future, at this Museum of History and Industry-sponsored free event on Capitol Hill tomorrow.

History Cafe: Public Transportation, Thursday, August 16, 7:00 pm-8:00 pm, Roy Street Coffee & Tea, 700 Broadway Ave. E. Free… (See more PubliCalendar: Light Rail Marches On | PubliCola)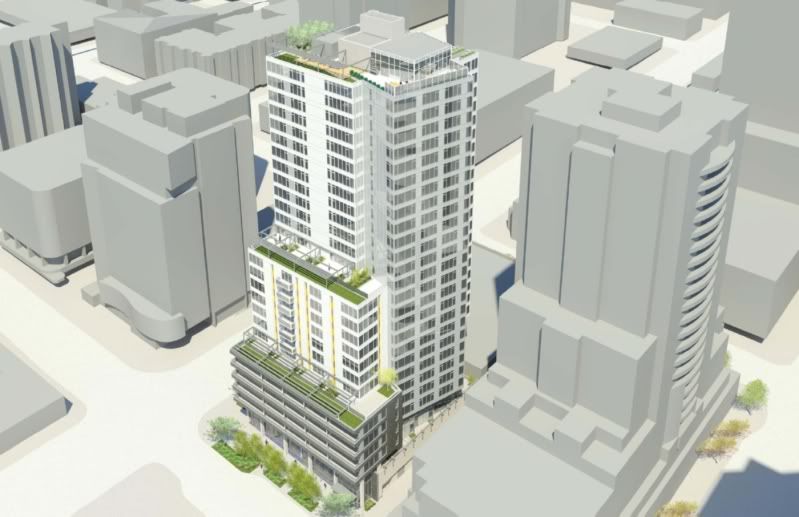 The Puget Sound Business Journal reported last week that Seattle's population grew by 2 percent between spring 2010 and summer 2011. We also learned of another highrise apartment tower that will help add to the supply of housing in Seattle as Western U.S. Cities are projected to continue to attract more new growth than other areas.
The DJC reported that Third & Cedar LLC sold the site and tower design to Wood Partners for $13.2 million on Monday.  Wood Partners has indicated that they have plans to continue the 27-story, 298 unit apartment building with Hewitt (architect) & Anderson Construction Group.

According to the Anderson Construction website, the project will be built using a "top/down" method which will allow them to build up while floors are constructed underground.  This will allow them to complete the build in just three months and ground is supposed to break in September 2012!

Sad to say that many views on the east side of Seattle Heights will soon disappear BUT overall the building will be a great addition to north Belltown neighborhood bringing more housing and retail opportunities! (via UrbanAsh » Blog Archive » 3rd & Cedar: Project slated to be a 27-story, 298 unit apartment building!)
Over in the other Washington, there's a new website to help cyclists navigate the nation's capital, Next American City reports.
Cyclists in Washington, D.C., home to Capital Bikeshare, have another tool at their disposal to help them navigate the nation's capital on two wheels.

Today, techie non-profit OpenPlans launched BikePlanner.org, a District-focused program that routes bike trips according to the user's preferences. It's the first software of its kind in the U.S.

The website's bright, clearly discernible map allows visitors and locals alike to set a path for throughout the Washington metro region, and modify the route based on a preference for the flattest, safest or quickest path (or, if you like, somewhere between these three options). Right now, the city's bike share program stretches into Arlington County, Va., but it plans on extending to Alexandria, Va. and Rockville. Md… (Continue Reading New Website to Help D.C. Cyclists Get Around – Next American City)
This is a guest post by Jen Sandberg, who works with Skanska on communications and public affairs initiatives and shared this reflection on our recent Brownbag about the Living Building Pilot Program. We welcome guest posts on topics relating to the built environment and Smart Growth in Seattle.
Last month, Great City hosted a brown bag on the status of the Living Building Pilot Program in Seattle. We heard from Skanska's Lisa Picard on how Stone34 is working to foster market acceptance for green commercial buildings in the region and hopefully beyond. Last week, the City Council unanimously approved an ordinance to amend the Living Building Pilot Project in order to facilitate and encourage more developments like Stone34.
Seattle Bike Blog breaks the welcome news of progress on the long-awaited idea of a bikeshare system for Seattle:
As we reported last week, Puget Sound Bike Share has officially formed and is currently searching for an executive director. If all goes smoothly, the first bikes could roll out as early as late summer or fall of 2013.

Guiding the process process forward is a business plan developed by Alta, which suggested having an administrative non-profit (Puget Sound Bike Share) and a private operating contractor (TBD, though Alta would probably like the job).

"Non-profit is a good model for us because it's a lot easier to apply for public sector grants and [private] sponsorships," said PSBS Board President Ref Lindmark (also with King County). While elsewhere in the nation, municipalities have owned and operated the systems, a non-profit makes sense for the system's goal to be a regional system, he said… (Continue Reading The plan for Puget Sound Bike Share | Seattle Bike Blog)