An interesting assertion, and question, from Transportation Nation:
Even in the worst traffic jam, our roads are still mostly empty. That's if you think about the car seats, not the just the cars. For commutes, the average number of people per car in the U.S. was 1.1, according to 2008 data. That's a lot of unused capacity.
Or, as Odile Beniflah sees it, a millions of idle assets, wasted resources. She is working to launch Carpooling.com in America. Europe's largest ride sharing company used by 2 million people each month in 45 countries. And that's just through one website. It's cultural,  she says.  "People [share rides] first for the money, but they come back to it because they enjoy the experience, they enjoy the social aspect." …More via Europe Loves Carpooling, Why Don't We? | Transportation Nation.
Here's a top ten list we can dig into. Films that portray great places:
When you're watching a movie, how much attention do you pay to the setting? While the best way to learn about what makes a great place is often to get out and observe how public spaces work first-hand, there are films that illustrate Placemaking principles quite beautifully. We've collected ten of our favorites here, with explanations of why we think they tell great stories about place. Take a look, and let us know if you have a favorite Placemaking-related movie or two (or three!) that we should add to our Netflix queues!

Click here for the list: Ten Great Movies for Placemakers « Project for Public Spaces – Placemaking for Communities.
Happy Friday! Let's check out some charts from Seattle environmental engineer Chad Newton:
Seattle is busy building the city.  Over the past year construction cranes have once again dotted the neighborhoods surrounding the urban core, building apartments and office buildings.  There are four city blocks under construction within two blocks of my South Lake Union office.  Local and national media have jumped on the trend.  Nationally, multi-family housing starts have ranged from one-sixth to one-third of the total over the past several decades.  How has the ratio of single-family to multi-family housing starts varied in the Seattle metropolitan area?

The Puget Sound Regional Council publishes such stats, so I was able to make some charts.  The first chart below shows total housing starts (in King, Snohomish and Pierce Counties) and City of Seattle multi-family starts, over the past 20 years.

During the 1990s, Seattle multi-family averaged at 9% of the total metro housing starts – a pretty small slice of the pie.  During the 2000s, the Seattle multi-family average increased to 23% of the total, and to 30% of the total since 2007.  When the recession of 2008 hit, housing construction tanked.  But single-family construction tanked worse than Seattle multi-family.  And now Seattle multi-family is roaring back to life, while suburban single-family plods along.  The chart includes projections of Seattle multi-family construction based on thesearticles: it appears that by 2013 multi-family construction in just the City of Seattle could nearly equal 2009 total metro area housing charts.  If suburban home construction continues at the same pace, nearly 50% of the total metro housing starts in 2013 would be apartments in the city.

More via Seattle multi-family is an increasing share of the metro construction pie « Build the City.
Cities are where people want to be, according to the most recent data available. The Transport Politic has more:
Last week, the U.S. Census Bureau released its annual population estimates for counties as of July 2011. These data provide significant insight into changing population trends in the United States, and the results offer considerable support for the argument that the country's growth is moving back into its cities, at least to some degree.

National coverage of the data release focused on the fact that the data showed a significant drop in residents moving to exurban counties at the edge of metropolitan areas. The massive creation of housing at the far reaches of regions appears to have slowed to a trickle, and even the movement of the population from Northeastern and Midwest metropolitan areas to Southern and Western areas has decreased. The fastest-growing counties by numeric population change between April 2010 (when Census 2010 was completed) and July 2011 were counties that contain large central cities — Harris, Los Angeles, Maricopa, New York City (if the five boroughs are combined), and Miami-Dade.

Of 21 metropolitan areas reviewed (chosen based on their size and presence of a central city), just five saw decreases in the population of their core counties between 2010 and 2011 (Cleveland, Baltimore, Cincinnati, St. Louis, and Detroit), while two of those also saw declines for the metropolitan area as a whole (Cleveland and Detroit). Many cities that have historically had declining populations, including Philadelphia and Washington, grew quite strongly over the  year-long period…

More via In New Census Data, An Improved Outlook For Core Counties « The Transport Politic.
Here's some good advice from a man who knows what he's talking about. Former Washington State Department of Transportation Secretary Douglas MacDonald suggests you check out the matchup of dueling transit-nerd-celebs Jarrett Walker and Darrin Nordahl at Town Hall tomorrow:
For all the endless discussion of public transportation in an around Seattle, it's all too rare that a forum presents serious students of transit practices debating basic orientations to transit planning unencumbered by hardened positions we locals often take in pronouncing what we know must be right for us.

Darrin Nordahl (Making Transit Fun, e-published April 13) and Jarrett Walker (Human Transit, 2011) are both Island Press authors, and an excellent idea it is for their publisher, Island Press, to put them on the stage together, since they vigorously and energetically disagree. Nordahl's title is his not-tongue-in-cheek prescription for building transit's usefulness. Walker takes a different approach, urging that the right goal isn't just to buy any particular transit technology (fun or not) based on its perceived standing in a hierarchy of transit modes. Rather, what matters are community-specific architectures of transit networks designed to deliver best value for money in all-important dimensions of frequency, convenience, and reliability that are the basic draws for ridership.

Jarrett and Nordahl each have fervent admirers in planning and transit professional circles around the country. It's a fair bet that part of the interest in the Town Hall event will be listening to the sidebars emanating from the audience. Transit Establishment Seattle is likely to be well represented. But real estate developers, neighborhood advocates, elected officials, labor unions, and construction engineering firms will be in the audience, not on the stage, for this one. Imagine what fresh insights might emerge to infuse our sometimes-stale and predictable civic discourse on transit goals and investments.

If you go: From Island Press: Darrin Nordahl and Jarrett Walker: Perspectives on Public Transit, 7:30 to 9 p.m., Wednesday (April 18), Downstairs at Town Hall; enter on Seneca Street, $5. Click here for more information and advance tickets.

via Crosscut Tout: 2 serious students of transit will speak | Crosscut.com.
America's fifth largest city is turning back the clock to an era of walkable urbanism to address future challenges of sustainability.
Philadelphia has a brand new land use code. It's famous row-house typology had been nonconforming since the era of "Urban Renewal." Through the advocacy of the Next Great City coalition (no relation to us) the new code replaces 1960s, suburban separation of uses with a healthy mix of uses close to residents.
By David Morley, AICPAPA's Planning Advisory Service Coordinator

In case you missed the news in the hustle and bustle of the holiday season, on December 22, 2011, Philadelphia Mayor Michael Nutter signed a new comprehensive zoning ordinance into law.

Although the new code won't take effect until August, the formal adoption represents a hard-fought victory for zoning reform advocates. Economically driven critiques of the city's current zoning(originally adopted in 1962) circulated for years before voters finally approved the creation of a new Zoning Code Commission to spearhead the reform effort in May 2007.

The city's previous code was emblematic of the urban renewal era, requiring a strict separation of uses and dictating suburban lot sizes and setbacks throughout the city's many single-family residential neighborhoods. As a result, the classic Philadelphia rowhouse became a nonconforming use. While these standards likely seemed reasonable, or even necessary, in 1962, by the mid-2000s the original goal of introducing suburban character to the inner city seemed quaintly out of step with contemporary zoning practice…

More via Promoting Sustainability through Zoning Reform in Philadelphia « Sustaining Places.
Since 2007 Minnesota's exurban growth rate slowed to 1.1 percent, down from 25.5 percent in the years prior. 
Credit:Flickr user Worker101
While tower cranes continue to proliferate in Seattle's apartment-hungry center city, "The latest population estimates from the U.S. Census Bureau indicate that people no longer are rushing to fringe communities for large lots and spacious homes." More via Next American City » Buzz » Twin Cities Mimic Nation as Exurban Growth Slows.
Governing.com talks about the use of advanced data analytics to more efficiently deploy government services, thus saving money for longer term investments or capital repairs that are also urgent:
…Richmond was the fifth-most-dangerous city in the country in 2005, before it began using analytics technology to sift historical crime information and predict when and where crimes were likely to be committed. In 2010, the city deployed police based on the data on New Year's Eve, when crime usually spiked. As a result, random-gunfire incidents dropped by nearly half and the number of weapons seized more than doubled. Crime has plummeted, and Richmond is now the 99th most dangerous city in the country.

But advanced analytics aren't just about helping officials make better public-safety decisions. For example, they can tell us what the likely impact of building a new road would be not just on mobility, but also on police response times and access to green space. Officials could then compare the results to the likely effects from building a new park or another potential investment. Armed with this data, leaders can compare the relative return on investment for various expenditures.

Of course, cutting local-government spending on a scale that would bridge the infrastructure funding gap would require political will…

More via Finding the Money for Infrastructure.
 City planners are looking to ease concerns about mixed-use development trickling into Capitol Hill's residential neighborhoods by reducing the size of the businesses that would be allowed to open in multifamily zones and possibly restricting the small commercial developments to arteries such as 12th Ave.

Wednesday's session of the City Council's land use committee will continue the process to overhaul Seattle's development and planning regulations as committee members return to shaping the Regulatory Reform package, a sprawling set of legislation we first reported on here: Seattle 'Regulatory Reform' could push mixed-use deeper into Capitol Hill

While the reform package is a citywide set of updates to zoning laws and regulations, some of the elements focused on areas near transit stations and within official "urban centers" apply singularly to Capitol Hill…

More via Regulatory Reform's mixed-use spread still coming to Capitol Hill — but smaller | CHS Capitol Hill Seattle.
Regulatory reform goes in front of City Council tomorrow morning. A directory of some of the recent commentary on the proposal, beginning with Publicola's Erica C. Barnett:
Just in time for tomorrow's 9:30 am public hearing on legislation that would institute a number of regulatory reforms at the city level—including, most 72 Comments and 7 Reactions, a proposal that would lift minimum parking requirements on new residential developments within 1,300 feet of frequent transit service—two national writers linked PubliCola's coverage of the parking issue today…

More via Seattle's Proposal to Lift Parking Minimum Gets National Attention | PubliCola.
ML King County Labor Council Executive Secretary David Freiboth:
Seattle is beginning to emerge from the longest, deepest recession in the last 60 years. We can see signs of this across the city. Projects that were stalled during the recession, leaving empty holes and vacant lots, are again under way. Hard hats are starting to go back to work. As a result, Seattle's growth is outpacing the rest of the region. Businesses, builders, and working families want to live and innovate here.

But there's a long way to go before we've built a broadly shared prosperity. More than 30% of construction and building-trades workers are still out of a job. Some of them have been out of work for three or four years. We need to look at ways to accelerate our economic recovery and help build a more sustainable city.

Unfortunately, the pace of recovery is being slowed by outdated and obsolete regulations. These rules are making it difficult for people to build sustainable projects and are keeping workers from bringing home a paycheck…

More via Regulatory Reform Will Strengthen Seattle's Economy | citytank.
The Capitol Hill Seattle Blog:
Inside a sprawling set of legislation designed to overhaul the laws Seattle uses to regulate growth and development is a plan that would impact Capitol Hill's residential, business and restaurant environment like nowhere else in the city. For some, the proposal to open more of the neighborhood to mixed-use development — putting restaurants and stores mid-block in areas that are now entirely residential — is the stuff of urban planning dreams. Others are asking where we draw the line when it comes to mixing business and every day life…

More via Seattle 'Regulatory Reform' could push mixed-use deeper into Capitol Hill | CHS Capitol Hill Seattle.
Our own board member Chuck Wolfe:
Analyses of Seattle's downtown rebirth seem to be in vogue of late, both from here and afar. From Jon Talton in The Seattle Times to Richard Florida, writers are holding up small mirrors to the central city-scape — like the "Claude Glass" used by landscape painters of old — to create motivating and exciting images of the evolving economy of the city I call home.

These perceptions showcase a walkable, creative-class city where transit meets the commerce of the future. However, in reality, Seattle's recovery is uneven. Widespread rebirth in this city will not happen without policies and regulations that allow for a changing marketplace, with flexible zoning to allow for land use consistent with new patterns of urban redevelopment and transportation.

In that spirit, early last year, Mayor Mike McGinn convened a roundtable group of Seattle business, environmental and neighborhood representatives (and I should fully disclose: I am a member of the roundtable) to consider land use regulatory reform with jobs in mind. The goal? Embrace immediate, simplifying measures intended to reduce complexity and increase flexibility, in turn decreasing the costs in time and money of starting and maintaining businesses and building new, more affordable housing…

More via The Quest to Make Regulatory Reform Work in Seattle – Politics – The Atlantic Cities.
What's your take?
Curious about Community Power Works? A participant in the program talked to Sustainable Seattle about their experience financing energy efficiency upgrades for their home. Check it out:
"When we learned that 86% of the warm air in our house was escaping each hour and being replaced with cold air from outside, we were shocked. That provided us with the motivation to act," said Washington Park home owner Allyson Adley.
more via SUSTAINABLE SEATTLE: An Easy, Affordable Way to Reduce Your Carbon Footprint, Save Money, and Increase the Comfort of Your Home.
What is "Bus Rapid Transit?"
No, it's not this:
It's this:
…here's the dream – a commute around town that is as efficient as a train without the cost of finding the land, laying the tracks, acquiring the train cars and building the stations, the park-and-ride lots and the highway overpasses to get to them (a process, as many discouraged commuters know, that takes years and years and years).

Creating train-like bus routes just sounds so much easier. Since 2008, Phoenix, Kansas City, New York, and Cleveland have all implemented BRT systems. Chicago is mulling one now. Worldwide, the concept is taking off, too. 134 cities – half of them in Latin America – now have such corridors, spanning more than 3,000 kilometers of urban bus routes from Zaozhuang, China to Guadalajara, Mexico.

All of them, though, are trying slightly different riffs on the idea. BRT implies some kind of hybrid bus-train service, but there's no single blueprint for how to make one work. Buses move faster when riders pay their fare curbside instead of making change on-board (with the driver, of all people!). They move faster when they're given dedicated lanes on a busy street. And they really move faster when they have the ability to communicate with approaching intersections… more via Everything You Ever Wanted to Know About Bus Rapid Transit – Commute – The Atlantic Cities.
A recent Grist post notes that communities with women leaders have better environmental policy:
…even when controlling for a variety of measures of "modernization," world-system position, and democracy, nations where women have higher political status — as indicated by the length of time women have had the right to vote and women's representation in parliament and ministerial government — tend to have lower CO2 emissions per capita. This finding suggests that efforts to improve women's political status around the world, clearly worthy on their own merits, may work synergistically with efforts to reduce CO2 emissions and avert dramatic global climate change. …more via More power for women means less climate pollution | Grist.
We couldn't agree more. Great City is fortunate to be blessed with awesome women among its leadership!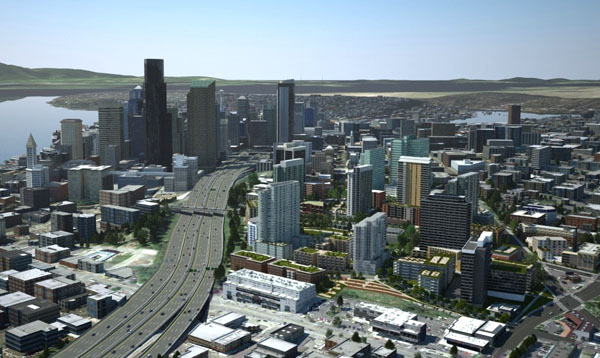 The Choice Neighborhoods Initiative looks to transform distressed neighborhoods into sustainable, mixed-income communities by linking affordable housing with quality schools, public transportation, good jobs and safe streets. The Seattle Housing Authority expects to use the program to begin the Yesler Terrace redevelopment by building low-income housing on a site east of Boren, and to work with partners to improve outcomes for neighborhood families.
Heard of Choice Neighborhoods, but not sure what it is? The American Planning Association has a blow-by-blow account of the US Senate authorization hearing. Riveting testimony, of course, but also helpful as a quick summary of the policy intent of the program and what the real-world results have been so far.
…Nearly all the witnesses who testified extolled the benefits of linking housing with community services, one of the primary goals of Choice Neighborhoods.

Maria Maio, executive director of the Jersey City Housing Authority, highlighted the resounding successes that her community had transforming blighted neighborhoods with HOPE VI funding, and added that "Choice Neighborhoods is like HOPE VI on steroids."

Susan Popkin, director of the Program on Neighborhoods and Youth Development at the Urban Institute, pointed out that while HOPE VI successfully transformed housing, residents weren't uplifted economically. She pointed out that Choice Neighborhoods has already been successful at reducing unemployment for residents and improving their health. The hearing highlighted the program's ability to leverage additional investment in targeted neighborhoods…

more via Successes of Choice Neighborhoods Highlighted in Senate Hearing « Policy News for Planners.
Luxury Apartments under Construction, 4th and Madison, 1900 (wikimedia)
In liberal Seattle, almost everyone agrees that affordable housing is important, although people are as not as quick to speak well of its cousin, reduced housing prices. Meanwhile, new, dense development is both accused of eliminating affordable housing and being the ultimate source to provide it. I think both sides end up talking past each other because both positions contain a caricature of the segmentation (or lack thereof) of the market.
On my side, there's a very heavy reliance on the law of supply and demand. Build more units and prices should go down. The dynamic turns up again and again in human endeavor and carries a strong presumption of truth. But if we view the real estate market not as a single pile of commodities but as a series of smaller markets segmented by taste, demographics, and income, the situation gets more complicated and obscures the debate sufficiently to allow people to believe many different things in good faith.
For one thing, even a higher mean unit price may not indicate that housing has become less affordable. In an economically marginal neighborhood, replacing a parking lot with a luxury condo tower will almost certainly increase the mean cost of a housing unit in the neighborhood. However, the impact on the actual existing stock of "affordable" housing is  less clear. There is certainly more supply for people who especially want to live there, driving prices down; however, an influx of wealthier people will bring objective improvements in some senses, particularly in nearby retail property value, local school performance, and so on. As a density guy, I'm inclined to applaud objective improvements in quality of life; I'm not worried about "gentrification" per se, but displacement.… more: Real Estate Market Segmentation – Seattle Transit Blog.