Jun
22
Great City board member Nate Cole-Daum wants to see more electric cars in multifamily buildings.  This post originally appeared on citytank and is republished here with permission: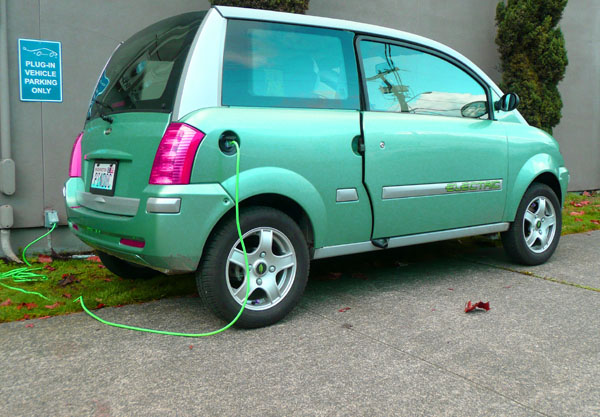 Electric cars and charging stations have arrived, bringing with them the opportunity to reduce commuters' carbon footprint. Nowhere is this more true than in dense urban areas.
Even if you travel by single occupancy vehicle (as opposed to transit or bicycle) living in the dense, compact-development context of multifamily housing can bring your carbon footprint down way below the national average. It is well-known that folks who live in vertical neighborhoods are far more likely to find what they need (and head out to earn their living) via much shorter trips than their single-family dwelling counterparts.
So I find it surprising how little discussion there has been about the apartment and condo context for electric vehicle owners. And that's why I was glad to see this Transportation Nation blog post recently, featuring a condo dweller who was among the first in the nation to own the new Chevy Volt. His challenge (working with his HOA to retrofit their parking area) will hopefully be resolved; the solution celebrated and replicated.
For while there's simply no match for a city networked with robust, convenient and pleasant public transit, walking and biking routes, rethinking a car-oriented city takes time. While we wait, making it easy for individuals to lighten the impact of their single-occupancy vehicle, especially when they're already urban, ready and willing to pay that premium for eco-piety, behooves us all.
Here in the Puget Sound, in particular, since our grid is fed largely by lower-impact hydropower, getting urbanites off oil and onto the grid, can be low-hanging fruit.
Speaking of fruit, how many multifamily buildings have food waste pickup at this point?
Jun
11
A meme we hear and read a lot, "the city is no place for kids," is back.  On its face, the idea (that as it becomes more dense, Seattle loses age diversity and simply becomes a hipsteropolis), makes sense. We immediately grow concerned, of course.  Where do they store all those fixie bikes?!?
Well, the smart folks at the Sightline Institute are all over this one.  Not only was the urbanist bait taken, Eric De Place gobbled it all up, leaving nothing of the argument intact.
Check it out:
Crosscut's Flawed Take On Families in Seattle

Will the last grouch in Seattle turn out the lights?

In the latest installment of a series that might be called the "get off my lawn, kids!" series, retired UW professor Dick Morrill rolls out an incendiary and misleading article in Crosscut on demographics in Seattle. It is a bizarre piece of writing for at least two reasons: 1 the headline has virtually no connection to the evidence he provides; and 2 his promise in the opening sentence, to evaluate change over time, goes essentially unfulfilled in the piece.

Let's take a closer look at where Morrill goes astray.

First, he correctly notes that Seattle's population contains a lower percentage of children than many other locations. But then he adds incorrectly, "the gradient is perhaps more marked than earlier." Sorry, that's false…
Jun
10
He's no Bob Loblaw, but Foster Pepper Attorney Colm Nelson dives into case history and comes up with some salient points for designers and developers:
Eye for an eye, really? Irresponsible developers pay heed to the Code of Hammurabi!

Since the dawn of civilization, irresponsible builders did not survive in the marketplace. They did not survive, period. Under the ancient Code of Hammurabi of Babylon circa 1800 BC any builder who negligently built a home that later collapsed and killed the home owner "shall be put death." Recently, citing to the Code, the Supreme Court of Washington recently, sternly reminded owners, engineers and contractors of their responsibility for worker safety.

In 2004, a digester dome at Spokane's sewage treatment plant collapsed, killing one City of Spokane employee and injuring two others. The massive digester had a capacity of 2.25 million gallons. Its purpose was to take raw solids, circulate them for several weeks at a high temperature in an anaerobic process, and turn the solids into fertilizer. The injured parties, who were standing on and adjacent to the digester when it collapsed, sued CH2M Hill Inc., the project engineer that had contracted with the City as a consultant for the 10-year capital improvement project to upgrade the plant.

The Plaintiffs alleged, in part, that CH2M had failed to properly advise them and the City, in writing, of the downstream effects of altering the direction of sewage flow at a valve-like transfer station leading to the digester. Prior to the accident, the workers noticed pressure rising in the digester and, in an attempt to relieve that pressure, began conducting a transfer to move sludge from that digester to another. However, CH2M had recently suggested a design change for that valve and related system, which had been implemented, and the effect of that change was significant. Instead of transferring sewage out of the digester, the new system simply transferred the sludge to a "deadhead", causing no relief in pressure whatsoever. Unfortunately, the City workers did not know this and believed the transfer would relieve pressure. Ultimately, the digester's dome collapsed, causing one of the workers who was working on top of the dome to fall into the digester and die, while the other two were blown clear by a wave of sludge and suffered serious injury.

via Eye for an eye, really? Irresponsible developers pay heed to the Code of Hammurabi! : Better Building: The Responsible Developer's Blog.