Oct
29
If anyone wanted to, say, ask us to test drive these for them, we would not be opposed. Just in case you wondered, FYI.
Oct
26
Well, the Los Angeles Times has a fantastic profile that ran on the front page in last Saturday's paper:
Donald Shoup has a quick comeback when people introduce him, as they often do, as the "parking rock star."

'Parking rock star' is an oxymoron, like 'rap music,'" the UCLA urban planning professor quips, his green eyes twinkling. "Maybe I should change my name to Shoup Dogg."

Add another moniker for a man who has been hailed as the "prophet of parking," the " Jane Jacobs of parking policy" and the inspiration for a Facebook group called "The Shoupistas."

The last is a fitting term for disciples of the Yale-trained economist, whom many credit with fomenting a long-overdue revolution in parking. At a sprightly 72, he is invited to expound his theories at brown-bag seminars and transportation conferences all over the world, from San Francisco to Sydney, where he'll speak in November.

Why parking — a mundane, eye-glazing, exasperating aspect of life? (Even Shoup, who finds the subject fascinating, says: "Nothing is more pedestrian than parking.")

More here
Now excuse us while we go "like" the Shoupistas Facebook page
Oct
25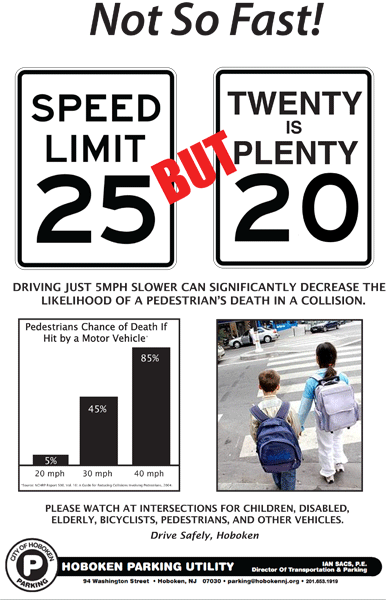 Last week we introduced you to some of the reasons why a 20 mile per hour speed limit might be a more healthy speed for city streets. This week, we introduce you to the good people of Hoboken, NJ who are embarking on the "20 Is Plenty" campaign to encourage residents to slow down.
This week, Hoboken is announcing its version of a highly successful awareness campaign practiced throughout Europe and, more directly translatable, the UK. In the UK, the campaign is called "20′s Plenty for Us", and in cities that adopt this policy, a 20mph speed limit area is established and signs are posted requiring drivers to obey the lower speed limit. While such a policy sends a strong message that residential and downtown areas should be synonymous to slow driving, illustrated in this production by streetfilms, implementation stateside is not nearly so easy. In Hoboken's version, "Twenty is Plenty", we are campaigning that drivers "consider driving" 5mph slower than the posted 25mph speed limit because this small change in speed has a major impact on the chances of fatality in a pedestrian-vehicle collision. We'd love to enact a lower city-wide speed limit, but we are bound to traffic engineering guidelines that were established when driving a car fast was all that mattered. If drivers agree with the message and choose to slow down, changing the speed limit may eventually come within reach.
Oct
20
This study was done in Australia but as a mom I can say that the findings brought via Health Canal ring true for kids in the U.S. as well.
Commissioned by VicHealth, the report led by Professor Stephen Zubrick from the Telethon Institute for Child Health Research and Assistant Professor Lisa Wood, Deputy Director of UWA's Centre for the Built Environment and Health, reviewed evidence of parental anxiety as a barrier to children's physical activity such as walking or cycling to school and playing at parks.

"The evidence shows there have been substantial changes in Australian family life linked to work, employment, the extension of the lifespan, the lowering of the age-range for early childhood education and the need for care outside of the home," Professor Zubrick said.

"These factors, and changes to daily activity and routine, impart clear restrictions on where children can be left unsupervised, who can supervise them, the rules for transferring duty of care, and general tolerance for children having a 'freer range' of independent mobility."  More…
Oct
20
So many of us are looking at innovative ways to get more people out walking and biking, or, using low impact vehicles.  Here's an idea from the UK's National Heart Forum.
The National Heart Forum (NHF) supports a reduction in this default speed limit for built-up areas to 20 mph. 'Built-up areas' in this context refers to areas where people live, work and play. This definition allows for exceptions to the 20 mph default speed limit for main roads and thoroughfares. A reduction in motor traffic speed is not the only change needed to make active travel safer, or to encourage further uptake of active modes of transport such as walking and cycling, but it is a key component.  More…
Oct
20
As a founding member of Streets for All Seattle, we're challenging the single-occupancy vehicle paradigm that currently dominates our city's transportation profile.  As we've noted before, the Mayor's budget takes a conservative but important first step in the direction we passionately believe our city must go to continue to function in the new economy, a path that's also the right way forward in light of the new ecology.
Walking in Seattle has the story on what is in the budget for walking.
PubliCola dives into the details of the mayor's proposed $13 million Walk Bike Ride Plan. Of that, $5 million is expected in 2011 and pedestrian projects would get the largest piece at over $2 million. More…
Oct
19
Delve into the rarefied world of one small parking lot in a college town, and the asphalt philosophers who work as attendants there scrutinizing cars and license plates, capitalism, anger, justice, drunkenness, spiritual awakenings, class struggle, entitlement, and the plight of the service sector worker.
More information here.