If anyone wanted to, say, ask us to test drive these for them, we would not be opposed. Just in case you wondered, FYI.
Well, the Los Angeles Times has a fantastic profile that ran on the front page in last Saturday's paper:
Donald Shoup has a quick comeback when people introduce him, as they often do, as the "parking rock star."

'Parking rock star' is an oxymoron, like 'rap music,'" the UCLA urban planning professor quips, his green eyes twinkling. "Maybe I should change my name to Shoup Dogg."

Add another moniker for a man who has been hailed as the "prophet of parking," the " Jane Jacobs of parking policy" and the inspiration for a Facebook group called "The Shoupistas."

The last is a fitting term for disciples of the Yale-trained economist, whom many credit with fomenting a long-overdue revolution in parking. At a sprightly 72, he is invited to expound his theories at brown-bag seminars and transportation conferences all over the world, from San Francisco to Sydney, where he'll speak in November.

Why parking — a mundane, eye-glazing, exasperating aspect of life? (Even Shoup, who finds the subject fascinating, says: "Nothing is more pedestrian than parking.")

More here
Now excuse us while we go "like" the Shoupistas Facebook page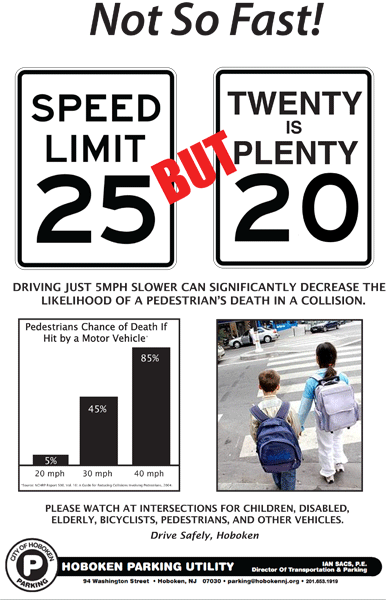 Last week we introduced you to some of the reasons why a 20 mile per hour speed limit might be a more healthy speed for city streets. This week, we introduce you to the good people of Hoboken, NJ who are embarking on the "20 Is Plenty" campaign to encourage residents to slow down.
This week, Hoboken is announcing its version of a highly successful awareness campaign practiced throughout Europe and, more directly translatable, the UK. In the UK, the campaign is called "20′s Plenty for Us", and in cities that adopt this policy, a 20mph speed limit area is established and signs are posted requiring drivers to obey the lower speed limit. While such a policy sends a strong message that residential and downtown areas should be synonymous to slow driving, illustrated in this production by streetfilms, implementation stateside is not nearly so easy. In Hoboken's version, "Twenty is Plenty", we are campaigning that drivers "consider driving" 5mph slower than the posted 25mph speed limit because this small change in speed has a major impact on the chances of fatality in a pedestrian-vehicle collision. We'd love to enact a lower city-wide speed limit, but we are bound to traffic engineering guidelines that were established when driving a car fast was all that mattered. If drivers agree with the message and choose to slow down, changing the speed limit may eventually come within reach.
This study was done in Australia but as a mom I can say that the findings brought via Health Canal ring true for kids in the U.S. as well.
Commissioned by VicHealth, the report led by Professor Stephen Zubrick from the Telethon Institute for Child Health Research and Assistant Professor Lisa Wood, Deputy Director of UWA's Centre for the Built Environment and Health, reviewed evidence of parental anxiety as a barrier to children's physical activity such as walking or cycling to school and playing at parks.

"The evidence shows there have been substantial changes in Australian family life linked to work, employment, the extension of the lifespan, the lowering of the age-range for early childhood education and the need for care outside of the home," Professor Zubrick said.

"These factors, and changes to daily activity and routine, impart clear restrictions on where children can be left unsupervised, who can supervise them, the rules for transferring duty of care, and general tolerance for children having a 'freer range' of independent mobility."  More…
So many of us are looking at innovative ways to get more people out walking and biking, or, using low impact vehicles.  Here's an idea from the UK's National Heart Forum.
The National Heart Forum (NHF) supports a reduction in this default speed limit for built-up areas to 20 mph. 'Built-up areas' in this context refers to areas where people live, work and play. This definition allows for exceptions to the 20 mph default speed limit for main roads and thoroughfares. A reduction in motor traffic speed is not the only change needed to make active travel safer, or to encourage further uptake of active modes of transport such as walking and cycling, but it is a key component.  More…
As a founding member of Streets for All Seattle, we're challenging the single-occupancy vehicle paradigm that currently dominates our city's transportation profile.  As we've noted before, the Mayor's budget takes a conservative but important first step in the direction we passionately believe our city must go to continue to function in the new economy, a path that's also the right way forward in light of the new ecology.
Walking in Seattle has the story on what is in the budget for walking.
PubliCola dives into the details of the mayor's proposed $13 million Walk Bike Ride Plan. Of that, $5 million is expected in 2011 and pedestrian projects would get the largest piece at over $2 million. More…
Delve into the rarefied world of one small parking lot in a college town, and the asphalt philosophers who work as attendants there scrutinizing cars and license plates, capitalism, anger, justice, drunkenness, spiritual awakenings, class struggle, entitlement, and the plight of the service sector worker.
More information here.
If you reduce urban sprawl and create denser, more walkable neighborhoods does this result in more physical activity by the people living there?  This research based on the Harvard Alumni Health Study looks at whether changing the environment is the reason people in denser neighborhoods walk more or whether people who like to walk self select for areas where walking is easier.
Physical activity is associated with better health, but many individuals are insufficiently active. Modifying the built environment may be an approach capable of influencing population-wide levels of physical activity, but few data exist from longitudinal studies that can minimize bias from active persons choosing activity-friendly neighborhoods. This is the first large-scale study to examine longitudinal changes in the built environment and physical activity.  More…
Recently, we learned Publicola writer Dan Bertolet is trying to keep the first two syllables of his column's name rhetorical:
No, it's not because I'm trying to save the planet. It's because I'm selfish.

I bike commute between the Central District and downtown five days a week, all year long, and I also ride occasionally to do errands or go out. And I do it because biking is, for a whole pile of reasons, simply the best way for me to make those trips.

My top six, selfishly practical reasons:

Bikes are cheap to buy, cheap to operate, and cheap to park. And I'm cheap.
Riding is exercise, and like many of us I find it incredibly hard to make time for exercise if it's not integrated into my daily routine.
Biking is much faster than walking, and for my commute it's also faster than the bus, even though the bus stop is only three blocks from my house.
I avoid the frustration of not being in control: I never have to wait for a late bus, I can go around cars stuck in traffic, I can stop and take a picture whenever I want.
It's exhilarating—I always feel more alive after a ride, even when the weather's miserable.
It's just plain fun to zip around on the city streets—sometimes I practice riding wheelies like a 12-year old on my way in to work.  More…
The single-occupancy-vehicle traffic on Pike Place baffles many a local; "good luck getting through this mess!" we silently scoff as tourists hunt for on-street parking or impatiently creep along amid the throng of pedestrians, handcarts, delivery trucks, bicycles and dumpsters.
It's a lively, vibrant urban place, partly because, as Walking in Seattle points out, jaywalking is legal there (just like it used to be everywhere before the private automobile), helping foster an environment many point to as Seattle's closest approximation of a woonerf. Would the exclusion of cars make Pike Place even better? WIS wants to know what you think. Go vote:
Even though we won't win a free trip to Portland for saying this, you should really be reading Sightline Daily. We like the regional round up of sustainability topics they find from all over the region, like this from the Tyee:
Road and stormwater infrastructure often destroys the ecological function of the land that supports it and burdens home buyers and taxpayers through its cost to install, maintain and replace. Since the end of the Second World War, the per dwelling unit cost for providing, maintaining and replacing infrastructure (defined here as the physical means for moving people, goods, energy and liquids through the city) has increased by nearly 400 per cent according to some estimates.

Most of this per capita increase has been the consequence of ever more demanding engineering standards for residential roads, coupled with the gradual increase in per capita land demand over the decades (or at least until the year 2000), a consequence of universally applied sprawl patterns throughout the United States and Canada.

The first costs of these ever more odious engineering standards and ever more exclusive zoning regulations were often invisible to the taxpayer, buried as they were within the costs of the original home purchase. More…

Via Walking in Seattle:
Last week we highlighted the parking policies advocated by Donald Shoup. Today, Councilmember Burgess lays out a very similar argument on his blog:
Mayor McGinn's proposed 2011 budget calls for raising on-street parking prices to as much as $4 per hour in the downtown core and smaller increases in other city neighborhoods. (The Mayor's budget legislation actually sets a $5 top limit per hour on meter rates.) The Mayor is on the right track, but we should go even further and introduce demand-sensitive variable pricing as quickly as possible.

Demand-sensitive or performance-based on-street parking rates are pro business.  Here's why as explained by David Shoup, professor of urban planning at UCLA and the author of The High Cost of Free Parking.

"Prices that produce an occupancy rate of about 85% can be called 'performance-based' for three reasons.  First, curb parking will perform efficiently.  The spaces will be well used but readily available.  Second, the transportation system will perform efficiently.  Cruising for underpriced curb parking will not congest traffic, waste fuel, and pollute the air.  Third, the economy will perform efficiently.  The price of parking will be higher when demand is higher, and this higher price will encourage rapid parking turnover.  Drivers will park, buy something, and leave quickly so that other drivers can use the spaces.  Cities can achieve all these goals by setting curb parking prices to yield about an 85% occupancy rate." ("The Price of Parking on a Great Street," Parking Today magazine, February 2009.)

Shoup also recommends that parking meter revenue above the current base rate be dedicated to neighborhood-specific street improvement projects, including more frequent street and sidewalk cleaning, enhanced lighting, more police, litter and grafitti cleanup, and pedestrian improvements.  Shoup calls this revenue dedication "parking increment financing."

San Francisco will soon launch a very sophisticated experiment in on-street parking management.  This three-minute video provides the essence of their program. Many of the core elements of the San Francisco program could be introduced here fairly quickly.  For example, we could adjust meter parking rates electronically by neighborhood on a quarterly or monthly basis to achieve the desired 85% occupancy rate.

And here's a New York Times opinion piece by Shoup that explains the most effective pricing model for on-street parking.

The Council should adopt specific outcomes related to on-street parking, such as the 85% occupancy standard and then allow variable demand-sensitive meter rates.  When demand is low, for example on weekends and late at night, meter rates would be low or free.  When demand is high, primarily during the day or early evening hours, meter rates would also be high.  This approach to public policy is objective, is outcome-driven, and removes the political squabbles and conflicts of the traditional approach to setting meter rates.
Go Tim!
We don't normally take sides or endorse new hires at Council Chambers but we're thrilled that our friend Bill LaBorde was just named advisor to City Council Transportation Committee chair Tom Rasmussen.
Bill is smart and effective so this is a big win for Seattle to pull him into strictly local transportation policy, where we have high hopes for output on a similar level that we've come to expect from him in his statewide work for Transportation Choices Coalition.
Congratulations Bill! And well done, Tom!
Writing from Denmark, Jenny Hampton sends us this missive about a new blog she and her fellow student Mary Fialko have started. Skimming through it, the work looks impressive.
Alleys give us space for trash, service trucks, underground parking access, deliveries, and fire access, keeping these important but traffic-clogging industries off the street. They also are used by people in many different types of ways and serve as infrastructure for the city.   In this small, but mighty public space, we feel that alleys can provide an important role for the city, both as a place for people, ecological connections, along with the necessary functions that are needed.

In the summer of 2010, we set out to learn more about Seattle alleys and the alley work happening around the world. In order to change the way we think about urban alleys, we first need to know what currently happens in an alley and what potential elements we can draw from.  In the Integrated Alleys Project we are evaluating the current role alleys have within different parts of the urban environment in order to understand and highlight the great potential that they hold, providing inspiration for action.

Our alley enthusiasm started as a project sponsored by the Scan Design Foundation, UW Green Futures Lab, and Gehl Architects.  We heart alleys and are truly excited to be with these great spaces.   Later this year, we will also be publishing a booklet on our findings and inspirations along with hanging out at all the alley parties!

Check us out at: Integrated Alley Blog

We are always on the hunt for anything, everything alleys, so if you've got something,  post on our blog or email us at alleyadventurists @gmail.com.

[Alley Adventurists]
Jenny Hampton, Landscape Architecture
Mary Fialko, Architecture