Jul
28
The Rainier Valley Post has a great editorial today.  Gathering zoning, transportation policy history, World's Fairs and Kunstler in one place is enough to get Great City's heart racing!
Othello N'hood Planning in a Broader Historical Context (OP-ED)

July 20, 2010

in Development,Opinion,Transportation

By Mona Lee

I recently read that the dream of the American suburb was born at the New York world's fair in 1939.  1939 was coincidentally  the year I was born too.

At the heart of the fair exhibit entitled "Futurama" was a huge scale model that showed what American cities and towns might look like with cars zipping down wide highways, stand alone houses with spacious yards and attached garages.  So while street cars were still stopping in Columbia city with people getting on and off to do their shopping in stores along the sidewalk, the nation's collective consciousness began zoning wide arterials like Martin Luther King Way, then called Empire Way, for the purpose of moving automobiles out into the suburbs.  The result was the C1  (commercial one story) pattern of zoning with big box stores, commercial strips, and acres upon acres of parking.

So throughout my life time, the American suburbs spread out from the cities taking over the land.  No questions asked.  We built what I call "car world."  But in the mid 1990's the architectural critic, James Howard Kunstler published an article in the Atlantic Monthly that reflected an emerging collective awareness that maybe this all had been a mistake.  This emerging consciousness was called "new urbanism." More…
Jul
28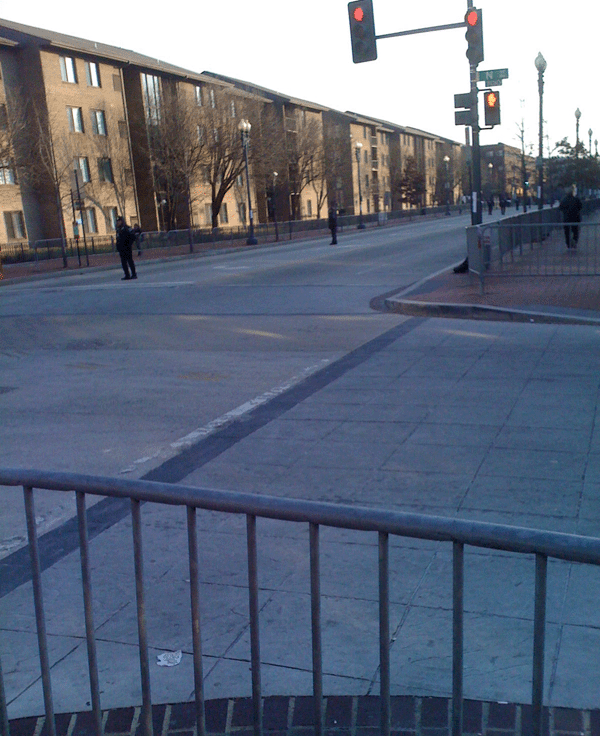 From the Human Transit blog here are some interesting ideas from Jarrett Walker.  If you'd like to hear more, Jarrett will be speaking at GGLO Thursday evening, July 29th,  from 5:00 pm to 7:00 pm.  If you're still going strong, after Jarrett's talk there will be a Streets for All Seattle kick off party at Nectar Lounge, 412 North 36th Street in Fremont from 7:00 pm to late.
Now and then, someone mentions that a particular transit project did not reduce traffic congestion, as though that was evidence of failure.  Years ago, politicians and transit agencies would sometimes say that a transit project would reduce congestion, though most are now smart enough not to make that claim.

To my knowledge, and correct me if I'm wrong, no transit project or service has ever been the clear direct cause of a substantial drop in traffic congestion.  So claiming that a project you favor will reduce congestion is unwise; the data just don't support that claim.

To my knowledge, and again correct me if I'm wrong, there are exactly three ways for a city to reduce its traffic congestion measurably, quickly, and in a lasting way.  (Widening roads is not one of these ways, because its benefit to traffic congestion is temporary unless new development in the road's catchment is completely and permanently banned.)  More…
Jul
27
Great City friend and urban eco-pundit Roger Valdez can be credited for highlighting what he calls "the sustainability gap." It is the chasm between policy outcomes that fail to reflect an understanding of the perilous path of human civilization is on – especially when said policies are championed by the most ardent political rhetoricians among us.
Crosscut's David Brewster today laments a different kind of gap – one that is more geographic, although still a result of policy, to be sure. In a post called "Seattle's Botanical Gap," Brewster notes the core of our city is "hardened," reflecting our forefathers' preoccupation with commerce over livability. The legacy is a concrete jungle, but the opportunistic entrepreneurs who founded Seattle would likely see no problem with that.
In the Northwest's economic and cultural center a "botanical gap" between modern, urban-livability principles and the reality of the built environment is of our own making, but it is our charge to fill it, nonetheless.  It is a charge we at Great City pursue with zeal.
Seattle's botanical gap

Botanical gardens, one reads in The New York Times, are having an identity crisis. Flower shows, horticultural lectures, and garden-club patrons are no longer able to pay the bills. So the gardens are putting on cooking demonstrations, building model green structures, and even inviting in dogs ($2 per canine). Would that Seattle had such a problem.

As it happens, my wife and I were recently at the Denver Botanic Gardens, a very beautiful, tremendously varied facility on Denver's Capitol Hill. They filled us with envy for such a facility, particularly in Seattle, which has one of the great gardening climates of the world. The extra draw at Denver, one of the country's largest botanic gardens, was a show of a score of major Henry Moore sculptures, gorgeously sited amid pools, on hillocks, and among the blooms.

Such facilities are the legacies of earlier benefactors, the kinds of worthies who normally contributed and laid out major downtown parks. The Denver gardens used to be closer to downtown, but they suffered from constrained space and some vandalism before moving into a handsome residential district. Denver has the nation's best public support for arts and "scientific institutions" such as the botanical gardens, so these facilities are flourishing. (The mechanism is a tenth of a cent of sales tax spread over seven counties, raising $40 million a year in public support.) More…
Jul
26
Last month, we posted an open letter to Seattle's City Council in support of more progressive street food policy.  We believe active, pedestrian-friendly streets are essential to a safe and vital city so we published a detailed endorsement of the proposed mobile food vending ordinance.
In the meantime, CHS canvassed Broadway and has published some great reporting on the thoughts of restaurateurs in the area and today, Slog's Riya Bhattacharjee weighs in with some international perspective.
We think its a healthy debate on a meaty topic and we hope the City Council is cooking up something wonderful!
More to Eat on the Street

If you think Seattle's street food scene isn't as cool as New York's or Portland's, you're not alone. Folks at the City of Seattle agree. In fact the Seattle Department of Planning and Development is trying (.pdf) to roll out more food vendors on the city's sidewalks and parks with the consent of the City Council. The Downtown District Council is hosting a public workshop at City Hall today at 5:00 p.m. to talk about a proposed street-food initiative. So if you want to quip about how much you love Marination Mobile, Maximus Minimus ,or the taco truck in your hood, this is your chance.

Currently food trucks are only allowed to park on private property (only hot dogs, coffee, and pop corn can be heated and served on the sidewalk), in Seattle, which results in turf wars and perhaps even haggling for space with a property owner. DPD planner Gary Johnson—who totally gets it—told me that he wants to change Seattle's street food system to Portland's. Yes! Finally someone who understands the joy of having some 580 cheap and tasty licensed food trucks mobilized all over the city. Council Member Sally Clark also gets it. "We are trying to figure out what are the rules that keep food carts from being really successful," says Clark, a self-confessed street food fan. Except for the hot dog carts, Seattle doesn't have food vendors selling smoothies, sandwiches, and fresh food, Clark says, because of existing health code rules. The Health Department is considering lifting the restrictions to allow "assembly of pre-cooked ingredients." She adds, "The new codes will provide start up business opportunities and turn sidewalks into more interesting places. The flip side is litter and less room for wheelchairs." More…
Jul
26
Thanks again to Phil Miller of SvR Design Company and Seleta Reynolds of Fehr + Peers for a fascinating brownbag last Thursday at GGLO. Though a little late getting the video camera out, our intrepid videographer has uploaded the majority of the brownbag. Enjoy, and as soon as we have a copy of the Powerpoint, we'll be sure to add that as well.
Jul
23
The Green Wave in Copenhagen from Copenhagenize on Vimeo.
If you were unable to make it to our brown bag lunch forum on urban cycling infrastructure yesterday, Seattle Bike Blog has you covered with reflections and further explorations — in a multi-part series, no less!
After attending the Great City brown bag this afternoon, I decided Seattle bikers need to take a closer look at cycle tracks and work to better define what we need and what will work best for our city. Cycle tracks may or may not fit those criteria. But the worst thing we can do is build an unsafe bike facility. Now is the time to get this right. So, for installment one, I look at Copenhagen … and how it is not Seattle:

Do you have Copenhagen Envy? Does the idea of a city-wide network of cycle tracks filled with people of all ages and walks of life moving around the city on two wheels and zero carbon emissions fill your body with lust and arouse you almost to the point of exploding? Well, if you get to know Copenhagen a little more, you might find that your fantasy partner and you do not have all that much in common, after all.

This is (sort of) the point Great City brought up at the brown bag discussion today. With separated bike facilities proposed for Broadway (maybe Yelser, too) and Dexter, now is a really good time to take a closer look at the cycle track and try to decide if it is the best fit for Seattle. More…
Jul
22
This post was originally posted at SvR Design's blog.
The University of Washington's Runstad Center recently hosted a day-long event called the Partnership for Sustainable Communities Dialogue Session. The purpose, as was related to the 100 plus participants from the private sector, non-profits and governments, was to hear from interested partners about how to shape and inform the federal Partnership for Sustainable Communities, which was recently announced as a partnership between the United States Department of Transportation, the Environmental Protection Agency and the Department of Housing and Urban Development.
After a day of dialogue, one of the most exciting tendrils of thought was the opportunity to use the carrot of federal funding to shift the regulatory/financial/governmental landscape across the country toward the principles that the smart growth and sustainability movements have been advocating for decades. The opportunity here is more than simply another federal grant. If deployed strategically, the work of the Partnership for Sustainable Communities could represent the tipping point in sustainable land use and transportation, much the way that the National Interstate and Defense Highways Act of 1956 was the tipping point that locked us into the land use and transportation patterns that we see today.
One need only look to Race to the Top funds from the United States Department of Education to see a successful example of how federal funding incentivizes significant, lasting legislative fixes to problems that would have been deemed intractable as little as a year ago.
For those unfamiliar with the Race to the Top program, The New York Times recently wrote a compelling article documenting the effect that it has had on the education system across the United States. They note:
"[Race to the Top] has turned a relatively modest federal program (the $4.3 billion budget represents less than 1 percent of all federal, state and local education spending) into high-yield leverage that could end up overshadowing health care reform in its impact…"
Across the country, enlightened self-interest drove unions to work with state legislatures. Democratic legislators who were reluctant to support charter schools were suddenly supportive, and teacher and principal accountability became a pre-requisite to even having a chance at receiving federal funding. In a highly-politicized Washington, DC, Obama administration officials even earned this accolade from the other side of the aisle:
"That President Obama did [education reform] is a total game changer," says [Paul] Pastorek, the Louisiana schools superintendent, who is a Republican working for a Republican governor, Bobby Jindal. "If he really sticks to this, education will never be the same."
The Sustainable Communities Partnership can be the same type of defining moment for re-shaping the built environment. Already, Secretary Donovan has announced that, "HUD will be using location-efficiency to score our grant applications." But the grants are an opportunity to leverage even better returns from local and state governments.
To illustrate the point, let's play an exercise of, "What if?"
What if to be competitive for federal Sustainable Communities funding, any state would need to:
have mode-neutral transportation funding (might Washington state's gas tax be used for walking, biking and transit?);
require green stormwater infrastructure/low impact development for stormwater management;
have a state-level Complete Streets ordinance;
create a transfer of development rights market;
remove parking requirements;
include green house gas emissions forecasts in all projects;
If these were the requirements to effectively compete with other states for federal funds, what existing, rutted conversations could be overcome? What state-level legislative actions might such funding requirements encourage? The possibilities are, seemingly, endless. Let's hope we use the opportunity wisely.